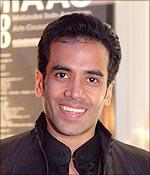 With newer directors like Raj Nidimoru and Krishna D K making films that are classy and that can be enjoyed by people of different ages, there is a new age  for Bollywood," says Tusshar Kapoor chatting with a reporter in New York.

The actor was in the city to attend the premiere of his new film Shor which opened the tenth edition of the Mahendra Indo American Arts Council Film Festival on November 10.

Co-starring Sendhil Ramamurthy and Preeti Desai, the film is directed by Nidimoru and DK. It is produced by his sister Ekta Kapoor, who was also in the Big Apple to promote the film at the festival.

"I play a bootlegger in Shor," Tusshar says. "There are very dark, very edgy sides to my character. But the bootlegger also tries to change himself. This is a character with lots of shades between white and black."
In preparing for a role, which is fantastic on the paper, he says he had to do his own homework to make it work on screen. "I would go deep inside myself and look at the dark experiences I had to confront," he muses. "How I had to overcome my own dark impulses... Sometimes having a sense of humour helps overcome the darkness."
A urban drama of a handful of people coming in terms with the ever challenging Mumbai, it will go to several film festival before it opens across India after a month.
"This is not just a film festival film," says Tusshar who is currently basking in the worldwide success of Golmaal 3 in which he shares the screen with Ajay Devgn, Kareena Kapoor, Shreyas Talpade, Arshad Warsi, Kunal Khemu and Mithun Chakraborty.
Golmaal 3 has fared better than expected, earning about $2 millions over the weekend in North America, the Gulf countries, Australia and the UK.
"It is a unique success for me," Tusshar says. "It is the first time a film with me in a big role has opened this big abroad."
Some people said he may not be able to do justice to the role of a mute. "I took the risk and it has paid off very well for me," he adds.
Tusshar, 33, has been in the movies for over nine years, and has appeared in 29 films.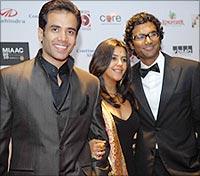 In choosing his roles, he says he consults many people. "But ultimately, it is my own decision," he asserts. "I have to make my own career graph. Surely there have been some mistakes in choosing the films but this much is true: I have tried to grow with each film."
Like his father, yesteryear star Jeetendra, and sister Ekta, he plans to go into production. "I like showbiz, I understand showbiz, and I am good at analyzing a film's box office success or failure," he says. "I am very good at numbers."
Though some Indian publications have written he would be producing writer and director Sagar Bellary's Double Jhol, which will have him playing double roles, Tusshar says he is not in a hurry to float his own banner.
"I don't even know what kind of film I will be making," he adds. "It might take a year to start working on it. Meanwhile, there are two or three films that I will be completing."
He is looking forward to the release of Rajshri's Love U,….Mr Kalakaar  which is written and directed by a first-timer S Manasvi.
According to the producers, he plays Sahil, a cartoonist, 'who derives his inspiration from emotions that come from the sky, from the earth, a scrap of paper, a passing shape, a spider's web.'
His co-star will be Amrita Rao, playing Ritu, a management trainee, whose world revolves around debits, credits, turnovers, profits and deadlines.
"It is a very romantic role," Tusshar says. "My first  solo role in a long time. I have been appreciated in many films such as Khakee in which I had a smaller role and those films have helped my career."
"But the film industry has a different kind of mentality when it comes to solo work," he reflects. "People think you are successful when they see you carry a film on your shoulders."
Photographs: Paresh Gandhi