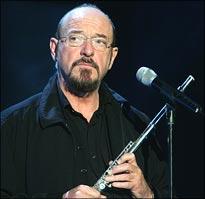 U2 frontman and last year's Nobel Peace Prize nominee Bono goes about changing the world "unfortunately, in a kind of showbizy way".
Heavy metal pioneers Metallica printed 5,000 t-shirts saying 'Metallica, Grammy winners' before they lost out to a band whose record company was convinced Metallica would win the award for Best Hard Rock/Heavy Metal Performance "like Aishwarya Rai in the Miss India thing".
But "the darkest of heavy metal bands have a sense of humour". And when they won the Grammy next year, Metallica ran a full-page ad in Billboard magazine, thanking everyone from their label to their fans to their dads to their "family dog, and Jethro Tull, for not having had an album out that year".
Jethro Tull and the Chicken Tikka invasion
Ian Anderson, rock music's most famous flute player, has a "bit of a soft spot for little George [W Bush]" because the American President "has a tough job". But the Jethro Tull frontman "would not vote" for Tony Blair, or his "sidekick" Gordon Brown.
There were many such gold nuggets to be picked up at the thinly attended press conference on Sunday at the Grand Hyatt hotel in Mumbai. There were bound to be, considering it was an event starring Anderson -- one of rock music's most quirky icons.
The 5-foot 8-ish frontman of the witty rock dinosaur called Jethro Tull walked in with a cup of tea (presumably it wasn't coffee, because he seems everything you would imagine a fun Englishman to be), and a copy of the day's Bombay Times.
'It is very tough to play in India'
"Bring out the bandannas," Anderson read out one of the newspaper's headlines, continuing to the intro of the article: "Bollywood's hunks are sporting this look, and so are Mumbai's cool cats." He then put on his cap, which was very much like a bandanna, and quipped: "I'll leave it to you to decide whether I'm a Bollywood hunk or a Mumbai cool cat."
With Jayesh Gandhi and Uday Benegal of Alms For Shanti (both members of the now defunct Indian rock band Indus Creed) in tow, Anderson was very much the performer he is.
He called the Reliance Infocom honcho sitting beside him "Mr Ring Tone" and described the feeling of connecting when looking into a fellow musician's eyes during a performance "like sex without getting sticky".
Anderson told Gandhi and Benegal he didn't have the foggiest idea what they would jam on in the 20-minute section where Jethro Tull and Alms For Shanti will play together in the shows.
Prepare for Jethro Tull
Benegal said he did have some ideas, and Anderson declared, tongue firmly in cheek, that a rehearsal on Monday would "reveal everything".
"To which, you are not invited," the man who has been rocking since the 1960s added to journalists.
About his music, Anderson pointed out that "instrumental pieces are a bit of a movable feast" but we all seek the "vulgar common ground of sexy lyrics". He said he had always been the "acoustic guy with noisy friends". He said he found Indian rock and pop music "different", though they borrow heavily from Western music and use "drum machines and sequencers".
Anderson also informed reporters that, lately, the band had been playing with a 22-year old violin player called Lucia Micarelli, who had been "force-fed" classical music since she was 4 and who had rebelled to become "quite Miss Rock 'n' Roll." Among the pieces they were doing together was an orchestral version of Led Zeppelin's Kashmir, where the young violinist puts in a "fiery rendition".
The 59-year old legend also touched a personal note as he wondered aloud whether he would die onstage, with his boots on.
Jethro Tull and Alms For Shanti play at the Sanmukhnanda Auditorium on January 31 and February 1, and IIM Bangalore on February 3.
For tickets call Rhythm House 022-22842835, or 9820281818 or 9819861116.