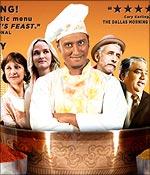 Aasif Mandvi, who fought hundreds of odds as he ran away (for most part) from playing greasy looking Arab terrorists or hapless desi cab drivers, is not only a widely recognised TV personality (Jon Stewart's The Daily Show) but also a writer and multi-faceted actor whose Today's Special is opening in over two dozen theaters on Friday across America and Canada [ Images ].
The reviews for the English-language in the mainstream are not ecstatic but even those who declared the film to be a forgettable, admitted it is a pleasant diversion. The influential trade publication predicts it will have many customers on cable TV and DVD
The film set in Queens, New York is coming out nearly two decades after the Mumbai-born Aasif Mandviwala came to the most diverse ethnic locality in America via Bradford, England [ Images ] and Florida [ Images ].
Partly based on his experiences, it is also inspired by his Obie-winning one-man show, the funny and poignant and always insightful Sakina's Restaurant. It  brought him wide recognition and acclaim over 12 years ago. And that would lead him to smaller but good parts in over a dozen Hollywood movies including The Last Airbender and Spider-Man 2, not to forget appearances in the hit TV series such as Jericho and ER  and the big budget Broadway show Oklahoma!
Today's Special had its premiere at the Mahindra Indo-American Arts Council Film Festival last year. The fact that it took over eight years to write it and raise money to produce it, and then wait for a year to have it released after the premiere, shows how tough it is for independently made movies with ethnic background to break into the mainstream. David Kaplan (Year of the Fish which had its world premiere at the 2007 Sundance Film Festival) directed the kitchen comedy.
In the new movie, Mandvi plays a chef named Samir, who has to take over his family's restaurant in Queens reluctantly after his father becomes ill. 'The father and the mother basically are my parents," he had said in an interview, adding that, like his dad, 'in the film, [Samir's] father really wanted to be a doctor. He got top grades, but his father couldn't afford medical school.'
Samir is a sous chef who dreams of becoming the head chef at an upscale Manhattan restaurant. When he is passed over for a promotion he quits his job and lets his co-worker Carrie (Jess Weixler) know that he intends to go to Paris to study under a French chef. But when his father Hakim (Harish Patel) has a heart attack, Samir is forced to take over Tandoori Palace, the nearly bankrupt family restaurant in Jackson Heights.
He has to deal again with family matters he thought he would forget by going to France [ Images ]. He relationship with his father had suffered considerably since the death of his older brother, and his mother Farrida, (cookbook writer and actor, Madhur Jaffrey), is too busy finding a wife for Samir than help him heal the emotional scars.
Samir's life begins to change when he meets Akbar, a taxi driver, a smart chef, and a vivid raconteur (Naseeruddin Shah [ Images ]). Akbar not only inspires Samir but also teaches him to trust 'his senses more than recipes; to stop measuring his life, and to start truly living it.' With Akbar's guidance, Samir starts to embrace his heritage and his passion for life through Indian food.
Aasif, who wrote the film with his friend and former Jon Stewart show writer Jonathan Bines, calls his film 'a tandoori comedy.'
He has discussed a scene in the film which lasts for a few minutes but resonates well with any one who has been affected by 9/11.
The scene shows him praying with his father.
'I wanted to show just two ordinary Muslims praying the namaz, and not have it be something menacing or alien, and not have all this music or whatever,' he said. 'It comes from a place of love and bonding, which is what it was in my family growing up.'
He has also said the movie 'is really about integration...Ultimately  Samir does is what I do, even on The Daily Show is this integration between east and west. We wanted to create a film that was about integration. It's not just about one community but about the broadening of a larger experience. '
In many interviews in the past few years ago, Mandvi had talked about how he hoped that the Indian community which has started backing up politicians, endowed chairs for Indian studies in major universities, and continue to play big in the high-tech world could also support the arts in a big way.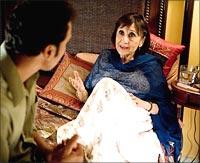 Many major mainstream reviewers have been drawn to Today's Special thanks to Mandvi's popularity on The Daily Show.
'There's nothing terribly special about Today's Special, a heartwarming if slight foodie comedy set mainly in the kitchen of a struggling Indian restaurant in Queens,' wrote The Washington Post. 'As is often the case with films that center on cooking, the on-screen dishes all look good enough to eat. (Check the neighborhood beforehand for the nearest place to get chicken tikka masala. You will leave the theater hungry.)'
And yet, the Post conceded, 'Mandvi and his co-stars (who include Madhur Jaffrey as Samir's mother) have such a laid-back appeal that they make the overly stale menu of Today's Special hard to resist. It's a film where the plating outshines the flavour.'
Seattle Times felt that though the film is predictable, its performances enhance it.
'Shah is a first-rate scene-stealer, Patel and Jaffrey effortlessly suggest parental chemistry, while Mandvi, best-known for the eccentric touch he brings to Jon Stewart's The Daily Show, tones down the silliness to make a credible leading man.'
The San Francisco Chronicle declared: 'The film is engaging but also has a certain creaking familiarity. There's almost nothing here that's surprising, and the movie's world is rather drab -- sad working-class New York, and a dingy old restaurant. It's an easy movie to watch, and yet it's just as easy to forget or skip entirely.'
But The Boston Globe was more positive. Though the reviewer had a few serious problems with the storyline, he still welcomed the film.
He could not believe, Wesley Morris wrote, ' that a man married (also as Samir's father is) to a woman played by Madhur Jaffrey would be permitted to operate such an unsanitary kitchen. The sight of one of the world's most regal women and beloved cooks standing in such filth is wrong, wrong, wrong... But we've put up with less plausible stuff in more conventional romantic comedies. Today's Special gets by on little cultural details that also seem personal, like Samir's mother fixating on his finding an Indian wife.
His conclusion: The only thing more worth rooting for at the movies than love, justice, or revenge is food. As predictable as the outcome is, you really want chefs and restaurants to make it. If you see a good meal in a movie, it makes you hungry more than good screen sex makes you horny. More than once during "Today's Special,'' a modest but extremely enjoyable movie that opens today, I thought about how many food movies are romantic comedies in their own right. This one, like most food movies, affixes a budding heterosexual relationship...'