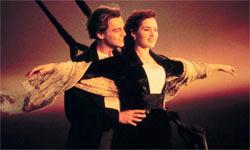 Millions of people across the world are happily shedding tears watching the 3D edition of James Cameron's sentimental spectacle Titanic, which has crossed the $2 billion benchmark worldwide, with plenty of fuel left for further sailing.

The only other movie that has sailed beyond the landmark is also Cameron's -- Avatar earned $2.8 billion worldwide.

Though Hollywood insiders say that Titanic has no chances of overtaking Avatar, it still has a lot of momentum and strength to keep going for another month despite many summer films opening worldwide soon.

Though Titanic is doing okay business in North America, it is cruising with awesome speed in other countries like China, Russia and India. Over its second weekend, it grossed an awesome $82 million outside America and Canada, making it the number one film in the world, easily pushing to the second place the new film -- the $210 million sci-fi action saga Battleship -- which started its international run in more than 28 countries.

Based on a Hasbro naval combat game about sea warfare with an alien war fleet, Battleship is yet to open in many countries including Russia, Germany and America. It grossed $58 million in its first weekend.
Titanic, which opened in China a week after its international start, grossed $55 million there in three days, beating the $44 million the film has taken in America and Canada in 10 days.
According to the Chinese publications, due to the film's three-hour length, it failed to break the opening day record of Transformers: Dark of the Moon, which had gone to gross an astounding $150 million in China.
Chinese news media have also reported that audiences in Beijing and Shanghai are paying about $24 to see the film, about double the normal price for a movie ticket.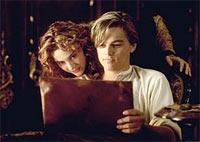 Its re-release coincided with the 100th anniversary of the Titanic's sinking on April 15, 1912, with the loss of 1,514 lives.
By now, the 3D version of Titanic has made more than $180 million worldwide beating the total for 3D release of The Lion King (about $175 million)
The new release, according to Hollywood insiders, would earn at its current pacing at least $360 million, a figure many new big budget films as The Wrath of Titans are struggling to reach.
Among the reasons why Titanic is spectacularly successful outside of North America is that 3D films are still a big attraction in many countries especially in Russia and China. In these two countries, the number of comfortable theatres showing mainly foreign films have multiplied by dozens in the past decade.  
According to LA Times, James Cameron's Titanic only played in 180 theatres across China 14 years ago during its first release, compared with the 3,500 locations the 3-D re-issue screened in over the weekend.
In six days, the new version has already made 32 percent more in China than the $44 million the original made during its entire theatrical run in the country.
In India, the movie has reportedly made about $2 million in 10 days.