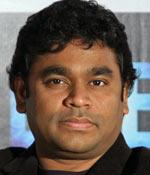 Some of the tickets for Oscar and Grammy winner A R Rahman's Chicago June 18 "Jai Ho Concert" are now selling for 1,050 dollars per person on his official website.
This "Jai Ho Circle" ticket includes: no waiting in line -- express entry, separate entrance on green carpet, and pre-show service of non-alcoholic beverages and snacks.
The lowest price ticket available (for Section 206) for this concert costs 54.50 dollars. The concert will be held in Sears Center and there is a limit of eight tickets per order.
The "A R Rahman Jai Ho Concert: The Journey Home World Tour" kicks off at the Nassau Coliseum in New York on June 11 spanning 16 major cities worldwide, and ending at Wembley Stadium in London on July 26. Additional dates may be announced.
During this period, he will reportedly have live concerts in USA, Canada, Netherlands, France, Norway, and United Kingdom; covering the cities of Uniondale (New York), Atlantic City, Washington DC, Chicago, Detroit, Toronto, San Francisco, Los Angeles, Dallas, Houston, Amsterdam, Paris, Oslo, Glasgow, Manchester, and London.
Well known choreographer-director Amy Tinkham, who has worked on the concerts of the likes of Paul McCartney, Madonna, Britney Spears, Dixie Chicks, Motley Crue, etc, will reportedly be associated with Rahman's concerts, which are said to include acrobatics, new technologies, fascinating dance arrangements, changing sets, LED screens, and global cast of dancers and musicians.
It is termed as a "virtual journey through beauty, culture, and spirituality" and also as "theatrical experience" utilizing "new technologies."