"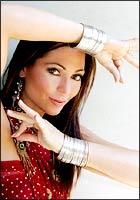 It's sad that some Indian men feel that women from abroad, especially white women, are easy," sighs Tania Zaetta, as she discusses the recent incident about an NRI actress hopeful from South Africa who was raped in Mumbai. But it's not just India, she adds, "Unfortunately, some men think this way in other parts of the world as well."
She understands girls backpacking their way to Bollywood from a foreign country, and her advice to them is to "be street-smart."
Don't miss: Bollywood's prettiest imports
Her words are worth a listen, considering the Australian face of Who Dares Wins made quite a mark in Bollywood with two big Yashraj releases, Bunty Aur Babli and Salaam Namaste -- undoubtedly the most stellar debut by a foreign actress. Tania, an Australian citizen, shifted to Mumbai four years ago, and is contemplating several scripts (and item numbers) at the moment.
"I only want to tell newcomers that these girls must not come to Bollywood starry-eyed. Bollywood is tougher to break into than Hollywood because of cultural differences, and also the fact that most of the films are made by people whose families are already associated with the industry," says Tania.
Born in Merbein, Australia, to an Italian father and Australian mother, Tania's first contact with India came rather early, as she travelled with her mother to the Himalayas.
"My mother, Heather, is my best friend, my elder sister and everything. She believes in spirituality and she brought me to India when I was very young," explains Tania. "She has told me to take the best of everything from every religion and I am a great believer in the Karma of Hinduism."
She excitedly explains, "I was in London when I got a call from Yashraj Films saying they wanted me in New Delhi within 24 hours. I said I wouldn't be able to make it, but then they mentioned Amitabh Bachchan and Bunty Aur Babli. I changed my plans based on that line and said, 'I'm coming! Wait for me!'"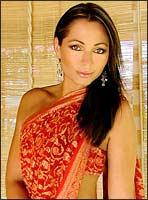 Enjoying working in India, Tania says the best thing about her Bollywood entry was that she never had to face the casting couch. While she agrees there are some bad eggs in every field, the actress -- who can boast of 
Baywatch
among her acting credits -- is clear that one must not generalise about the entire industry based on one or two incidents.
While based in Mumbai, she often travels to London and Australia for work, and it's a hectic life. "Because of the nature of my work, I have to be available in all three time zones. Therefore, I get up at 7 am and sleep by 1 am. I keep three phones, and have to be available to people in these continents according to their daily schedules," she explains.
"Four years ago, when I was here [to anchor India-specific episodes of AXN's Who Dares Wins], I got the opportunity to do some item numbers, but couldn't because of date problems," she recalls. Her inability to do those early item numbers isn't something Tania regrets though, as she looks back on that as fortituous timing, and a blessing in disguise.
"Now, I am ready to do an item number," she says.
Asked to rate her favourite item number, she's predictably quick to talk about Ash's Kajra re in Bunty Aur Babli. "She looks so sensual and I think she did that dance very tastefully."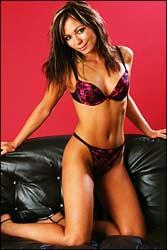 Coming up for Tania is a film called Mr Black & Mr White, starring Suneil Shetty and her Salaam Namaste co-star Arshad Warsi. Again, she's working with a major movie studio, this one being a Mukta Arts production.
"In India," she says as she thinks about cultural differences, "one has to be very careful on what you wear in public places. This is not the case in Australia. One can easily walk around in a bikini or short skirt at the beach, and no one would look at you. That is not the case here."
So, does she miss these personal liberties in India? "Not that much, because I feel safe in Mumbai, but I do miss the beaches of Australia. The sand there is white, which you don't find in Mumbai."
And what does she do when India plays cricket against Australia? Tania breaks into a big grin. "That is always a big problem for me. I don't know whom to cheer for! So, I have decided the spirit of the game should be cheered, rather than the teams."