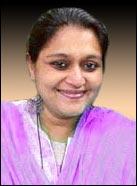 S
upriya Pathak
returns to the big screen after 12 years and has landed two projects --- Ram Gopal Varma's
Sarkaar
and Saurabh Tewari's
Khajoor
.
Sarkaar
(Amitabh Bachchan, Abhishek Bachchan, Katrina Kaif, Tanisha, Kay Kay Menon, Rukhsar) will see Supriya, who will turn 44 soon, as the just turned 62-year-old Bachchan's wife and Kay Kay's and Abhishek's mother.
Says the actress, "It is a dream come true to be working with Mr Bachchan again. I played his sister in Shahenshah, but then I had many questions unanswered as an actress. Today, I am more mature. I hope to enjoy it doubly more."
She says she got a call from Ramu's office and signed on the dotted line after she went through different get-ups. The film is set against a Maharashtrian backdrop.
What excited her about Sarkaar is that she plays a 55-year-old woman, married to Sarkaar (Bachchan) for nearly three decades and remains unruffled at the happenings in the house.
"I feel amused when women in Indian films are unfailingly shown screaming at their kith and kin who are involved in nefarious activities," she says. "Please, let's get real! How can a woman react so dramatically to something that has been happening under her nose ever since her marriage? Like, there is a scene where my elder son Kay Kay commits a murder and I take it as it comes."
Abhishek plays the younger son, who is shown studying abroad initially. When he returns, Pathak wants him to get married to Tanisha who has been in their home from her childhood. Kaif plays the girl in Abhishek's student life.
Rukhsar, who -- more than a decade ago -- starred in Yaad Rakhegi Duniya and Inteha Pyar Ki, plays the female lead opposite Kay Kay.
Touted to be the desi version of the classic The Godfather, Sarkaar recently went on the floors in Mumbai with a scene filmed at a school for the blind in Jogeshwari. The scene featured Bachchan in a black shirt and South Indian lungi (called mundoo) and heavy beads of rudraksha maala around his neck.
Abhishek joined the shoot later in the evening. Bachchan is addressed as Sarkaar by everyone in the film.
Being readied for a mid-2005 release, the film -- which has completed its first five-day schedule -- will have its next schedule in November.
Supriya signed Khajoor before Sarkaar.
Written and directed by debutant Saurabh Tewari and produced by Vikesh Bhutani for their production house, Connecting Crew, Khajoor will see Pathak playing a widowed mother to Pakistani actress Arjuna, who plays a doctor.
Her father-in-law (Raghuvir Yadav) wants to get Arjuna married to a Dubai based guy but Pathak stands by her daughter's difference of opinion.
"The film aims to wipe off the false belief of some people here that settling abroad is a better proposition than staying in our own country," informs Pathak.
Khajoor, which also stars Aamir Bashir, Dayashankar Pandey, Manoj Pahwa and Vinay Pathak, goes on floors on September 18.
Cut to Shahid Kapoor (her husband Pankaj Kapur's son from his first marriage). "Oh, he is a great actor. Fida did not set the cash registers ringing at the box-office, but Pankaj and I both felt that he has improved a lot since his days of Ishq Vishk. We have a gut feeling that he will go far," she gushes.
She was last seen on the small screen playing the absent-minded Hansa in Star Plus' weekly comedy Khichdi which went off the air in July. The show will return on Star Plus' new upscale channel Star 1 in a new avatar.
"The cast remains the same. The family remains as foolish and entertaining as before. The only change is they have become rich and posh. How they behave with respect to this change forms the crux in the new version," she says.
Supriya who started her journey in Bollywood with Shyam Benegal's Kalyug, has played memorable parts in films like Vijeta, Bazaar, Mirch Masala, Masoom and many others. "I particularly enjoyed Vijeta and Bazaar," she points out. The last film she did was the forgettable Madhosh.
Her priority after marriage was her kids and will remain so. "My sabbatical from Bollywood was a conscious decision. I was never in the rat race. I always did quality roles. I wanted to give the best to my kids. Thankfully, my husband has done tremendously well for us and I was never stressed to continue working at the cost of neglecting them. Even today, if I reach later than 7.30 pm, they get worried."
Her 14-year-old daughter Sanah wants to become a actress and 11-year old-son Ruhaan aspires to become a cricketer. "They have grown up and probably need space to take independent decisions. That's why I am throwing myself into work," she says.