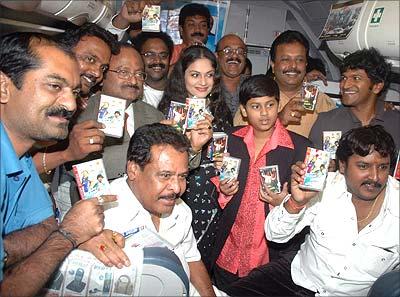 For the first time in the history of Kannada cinema, the music of Kannada film, Meghave Meghave, was launched in the skies, thus finding a place in the Limca Book of World records.
This event was held in a chartered Air Deccan flight. Besides the cast and crew of the film, many important personalities from the Kannada film industry witnessed the event.
Former Health Minister Cheluvaraya Swamy released the CD of Meghave Meghave, while senior government official B Somashekhar released the audio cassette. Puneet Raj Kumar launched the film's website.   
Meghave Meghave stars Ram, Gracy Singh and Sudeep, as well as veteran artists like K S L Swamy, Karibasavayya, Sanketh Kashi and Mandya Ramesh. It is directed by Nagendra Prasad and has music composed by Harikrishna.
"I am quite excited to be part of this great event," said Gracy, who makes her Kannada debut with this film. "I am happy to be a part of this film. I never thought such an event would happen when I started working for the film in Kathmandu."