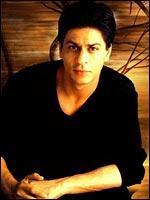 We asked readers to share their experiences of meeting Shah Rukh Khan, and were flooded with warm, exciting memories. Proof that SRK, who turns 40 on November 2, is truly the nations' star. This is the second part of our SRK exercise.
Click here for Part I
Khaleq Kazi: It was 10 pm on September 19, 2001 at Mumbai International Airport. I was not happy to return to Saudi Arabia after my annual 30-day vacation. While proceeding towards the boarding counter, I suddenly looked back. Till date, I don't know why I did that. I saw a man who looked like Shah Rukh. Then, he passed me. He was alone, in a dark blue shirt, with sleeves folded just below the elbow, blue jeans and sports shoes. He was carrying a black leather bag, which he was wheeling with him. And his Omega watch was visible.
I'm a big fan of Shah Rukh, but I didn't know how to go up and ask for an autograph. So I just said, 'Hi Shah Rukh.' He was very busy and looked quite tired. Some people had gathered around him by then. A middle aged woman greeted him saying 'namaste,' and he replied in the same way. She asked him to sign autographs for some kids accompanying her and Shah Rukh immediately agreed.
He speaks Urdu very well. I am sure he looked at me at least once, as I was watching him closely. Maybe Mr Khan will remember the evening too, as he was probably going to London for the release of his film, Asoka. The 9/11 incident may have affected the film's distribution in the US (I read it in the news). I don't think I can ever forget that wonderful evening.

Amit Jain: It was the summer of 1987 or 1988. I had gone to my aunt's place in Mehrauli, South Delhi, for my summer vacations. At the time, they had the largest showroom of suitings and shirtings. One day, we found out that the producer/ director of the TV serial Dariya Dil was looking for a shop to shoot some episodes in. My uncle's showroom had been shortlisted.
At the shoot, Shah Rukh and other crew members would play games like Scrabble while the sets were being readied. I also faintly remember taking his autograph and playing with him. The shooting lasted five days. Even then, he used to smoke a lot. As it was more than 15 years ago and I was very small then, I don't remember more than this.
Rushabh Shah: It was either in 1992 or 1993. There was a cruise for Bollywood stars from Los Angeles to Mexico and back. There was Shah Rukh Khan, Chunky Pandey, Johny Lever, Bhagayshree and Subash Ghai. I was about nine years old then, and my family and I were vacationing in LA. We had come on the cruise because we knew some of the promoters.
On the second day, we met Shah Rukh Khan, and he was a complete gentleman. I remember he had been injured, so his hand was in a sling. I had become a big fan of his, thanks to Fauji, Circus, and his guest appearance on Wagle Ki Duniya. 
Being so small, I dashed up to him the moment I saw him. He was talking to some people then. Instead of being annoyed at my intrusion, he excused himself and actually led me back to my parents. He was also kind enough to take a picture with my family and me, and gave me an autograph too.
The next day, after probably meeting lots of people, he saw me on the upper deck with my cousins, waved hello, and told me to stay out of trouble. It is a small memory, but one I cherish. I am not famous but I do have a few people who look up to me and expect me to set an example, and I know how to do that better because of this experience.
Humility is not always found in celebrities, and to find it in a rising star, almost impossible. But I found it on that trip. Thank You and Happy Birthday Mr. Shah Rukh Khan.
Sayed M Salim: I met Shah Rukh Khan long before he was a star. My friends and I went to Minerva in Mumbai to watch Salman Khan's Baaghi. There, I saw Shah Rukh with his girlfriend (now wife) Gauri. No one knew him at that time. Even my friends didn't know him. I saw him again when I was in college. After the Latur earthquake, stars had come to our classes to collect donations from students. Shah Rukh was one of them. There was a great difference in his look and style between the two meetings.
Now, I am in Dubai and desperate to meet Shah Rukh and his family. My wife is a great fan of his. Thanks to rediff.com for giving me an opportunity to write about my memories.
Yumna Mia: I am from Johannesburg, South Africa. I am a great admirer of Shah Rukh and, like many people, it's my dream to meet him. So, can you imagine my reaction when I heard he would be coming down to South Africa for the Temptations 2004 concert?
I decided to go, even if I would have to take a bus to Sun City (where the concert was held). In the weeks that followed, Lotus FM announced the landing schedules of stars at Johannesburg International Airport. I noted them down, as I didn't want to miss it.
Unfortunately, dreams don't always come true. I didn't get to go to the concert, but I did get to go to the airport (my cousin and I were the first ones there). We were happy, thinking it would give us a better opportunity to see him properly. We were told he would be entering from the main arrival gate but I realised that this was just a deflection. No sooner had we found that out, he had already come out and was on his way to his car. I have never run so fast in my entire life, or known I was capable of running so fast! I wasn't even aware if my cousin was behind me or not.
I ran straight past Zayed Khan, who was waiting for his car. All I wanted was to see Shah Rukh Khan, and I did. I was an arm's length away from him. There was a huge bodyguard with him, but I had a clear view. While everyone was screaming and jumping near his car, I just stood there looking at him and taking him in. All I could think of was, damn this bodyguard, can't he just move or can't I be sitting with Shah Rukh in the car? Then he drove away. Unfortunately, I could not take photos or shake his hand, but at least I got to see him.