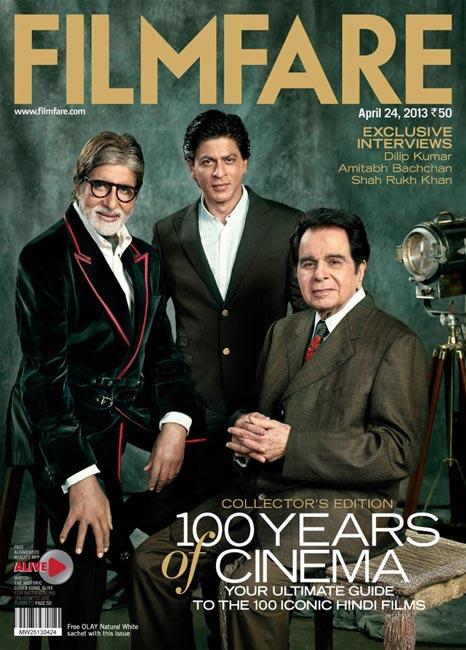 Celebrating the 100 years of Indian cinema, the cover of Filmfare magazine's latest edition features three generations of superstars -- Dilip Kumar, Amitabh Bachchan and Shah Rukh Khan.

"My life is complete after the photoshoot with Amitabh Bachchan and Dilip Kumar," Shah Rukh said, at its launch recently.

SRK, who has worked in remakes of Devdas and Don, added, "I did two iconic films -- one is Dilip Kumar's Devdas and the other one is Amitabh Bachchan's Don. The proud
moment for me would be when somebody remakes my original films.
"I had a marvellous time shooting for the photoshoot with Dilip Kumar and Amitabh Bachchan," he said. "I feel my life is complete now. When I was shooting with Dilip Kumar and Saira Banu, Saira
ji
came to me and said if she had a son, he would have looked like me."
He added: "They have seen so much in life and you can see that in their eyes. It's a wonderful moment that they have given me."