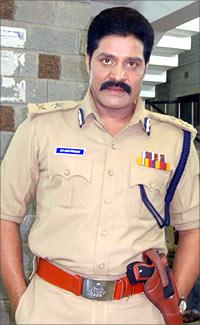 One of Telugu films' popular bad boys is making a comeback in the Kannada film Ko Ko. Srihari, a familiar name in Telugu films, is all set to entertain Kannada audiences in the role of a police officer.

"I play an IPS officer and brother of heroine Priyamani. I'm more like a father figure to her," he says.

Srihari has often experimented with his roles. So what was different about this role?

"I have done similar roles in Nee Vastanante Naa Vadantana, King and Don Seenu, for example, but what attracted me to this assignment was the dimension that this character had. There is great scope for me to play around with my body language as well."

Shooting for the film has begun and Srihari believes it is a super hit in the making. "Director Chandru has clarity in his thoughts and is executing the script well. The film is shaping well. It will be a hit," he predicts.

Why this long gap before returning to Kannada films?

"I am not well versed in the language and it's very important for an actor to be comfortable with a language to give his/her

best. But the script lured me into making an exception. Also, the producers of the film are close friends of mine and I couldn't say no," says the actor. The film is being made in Telugu as well.

Prior to Ko Ko, Srihari had acted in a Ravichandran film. He says he did the film only because Ravichandran asked him to do it. "He had seen me in Premante Idena and liked it. What caught his attention in particular were my expressions and reactions in close-up shots. In fact it was this very Telugu film that went on to get me roles as a hero. Since then, I have acted in 75 films as the lead," he says.

Srihari is also popular for his comic performances and rates his acting in Chiranjeevi's Bavagaru Bagunnara and Hello Brother with Nagarjuna, as among his best. "What satisfies me as an actor is that I have proved myself as not just a hero but as a good comedian and villain as well. In fact, five of my comedies went on to become super hits," he says.

Apart from Ko Ko, Srihari has five releases to look forward to. He was also part of the Tamil film Markandeyan.