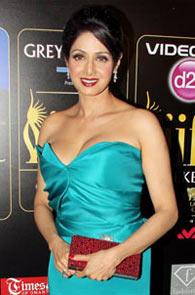 After a fire destroyed Sridevi's bungalow recently, the family may not be able to move back for at least a year.

They are now living in their other home that was earlier occupied by Prabhudheva.

The scenario for the Kapoor parivar is not as bleak as it appears. Their new home is spacious -- it has six bedrooms! -- and Sridevi has taken it on herself to do up the makeshift place like a second home.

"We are yet to ascertain the exact extent of the
damage to our bungalow," says Boney Kapoor. "But the entire second floor and a part of the first and ground floors are damaged. We will know the exact extent of the damage only after the entire home has been examined. I don't think we're moving back this year.
"There are two adjacent apartments, one that Prabhu occupied and the other which was vacant. We've taken over both the apartments, so there's ample space. Sri and my daughters are doing up the new place," Boney adds.
The family recently returned from the Maldives, where they brought in New Year's Eve.