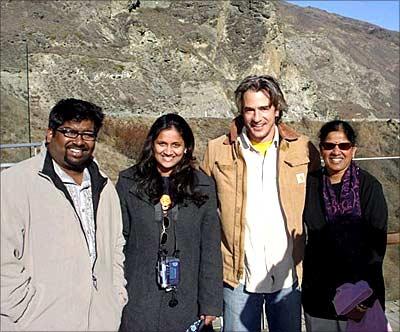 Reader
Yagnesh Rajendran
, who is based in Perth, Australia, ran into actor
Dermot Mulroney
, during a trip to New Zealand.
On his last day in Queenstown, he and his family decided to visit the AJ Hackett bungy spot. While taking a few snaps, he glanced over and smiled at the guy who had just walked across, only to realise it was the groom in My Best Friend's Wedding.
He quickly related the news to his wife and her mother, accompanying them, and the ladies demanded a photograph.
'I was a bit hesitant,' Yagnesh writes, 'as the guy was there with his family enjoying New Zealand and getting ready to take his bungy leap of faith.'
With female persistence getting the better of me, we introduced ourselves to Dermot right after his jump, who, to my surprise was very friendly and humble. In fact, his wife offered to take our picture while Dermot took the time to speak to my family.
What amazed me further was that even after doing his own thing in the next hour or so, the actor took the effort to come over and wish us all the best for the future, remembering our names and even pronouncing it with ease.'
If you encounter/meet/see film or television personalities and photograph them, please scan the photographs and mail the pictures to us. We will feature the best images right here on Rediff Movies.
Also check out: Robin Williams | Sanjay Dutt | Dancing with Sushmita | Priyanka at Oxford | Mammooty | Saif, Rani's new film | Amitabh in New York | SRK, Saif & Akshay | Aamir | Ajay | John | Abhishek | Shah Rukh Khan | Bipasha | Amitabh, Rani | Yash Chopra | Ram Gopal Varma