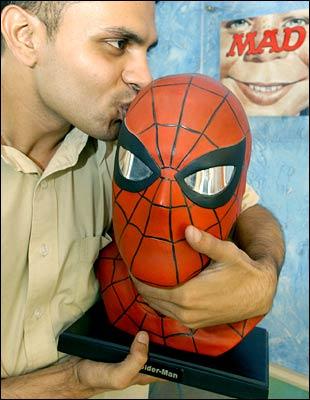 Spider-Man won't stop at anything. The superhero is making news in every corner of the globe. If the media is abuzz with Spider-Man 2, its desi version is eager to unfold.
The Indian version of the Marvel Comics classic will have the friendly neighbour sport a sarong and fight the villains of the big, bad city of Mumbai.
Here are the changes. Peter Parker will be rechristened as Pavitr Prabhakar, who gets his crime-fighting powers from a Hindu holy man. In the original, Parker is bitten by a radioactive spider, hence the name.
Mary Jane Watson -- the lovely lass who makes Peter Parker's heart beat faster -- becomes Maya.
Traditional Mumbai landmarks like the Gateway of India and the Taj Mahal Hotel will replace NY's giddy skyscrapers.
The desi Spider-Man that appears to be heavily influenced by the Indian mythology won't have a Green Goblin to battle. His arch enemy is a demon called Rakshasa.
In the picture: Studio Chief of Gotham Studios, India, Jeevan J Kang, poses with a bust of the comicbook hero Spider-Man at the Gotham Entertainment Group office in Bangalore.
Photograph: Indranil Mukherjee/AFP/Getty Images