Unlike his earlier films, Gowtham Menon's new Tamil film Silandhi (Spider) will be a mature love story that is also a thriller, according to the director. Naturally, it will have mature actors. Sarath Kumar is the hero. It was earlier decided that Shobhana would star opposite him, but she has now opted out.
"No, there were no hard feelings, and we parted as friends. There was some date problem," Menon explained. The face that next came to his mind was Tabu's. When he narrated the one-line story (which he wants to keep secret), she immediately agreed. Tabu will join the crew and start shooting from March 27, the director says.
Earlier, Tabu had acted in Rajeev Menon's Kandu Kondein Kanu Kondein and Kathal Desam in Tamil.
Prem turns hero
Prem, director of the Kannada film Jogi, has now decided to be the hero of Preethi Eke Bhoomi Melidhe to be produced by Ram Prasad. Shooting will begin after the Ugadi festival.
It was the music director Patnayak who suggested the idea to Prem. "His narration was so good that I though it would be better if Prem himself donned the hero's role," he says. Prem, meanwhile, is aware of the great expectations from his fans. "Yes, I am playing the hero's role. But, even a day before I agreed, I asked a few of my friends if I could fit into that mould. The advantage is I have a bound script, but I will still make improvisations during shooting."
He plans to have heroines from Mumbai. Why? "Because they can give me dates as I want," says Prem.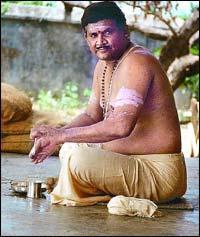 Grahanam wins the Gollapudi Srinivas National Award
The Gollapudi Srinivas National Award was instituted eight years ago by film writer and actor Gollapudi Maruthi Rao and his family in the name of his son, Srinivas, who died in an accident in 1992. The award is given each year on August 12, the day Srinivas died, to a new director of a feature film in any Indian language. It carries a cash prize of Rs 1.5 lakh and a memento.
The winner for 2005 is Indraganti Mohana Krishna for his Telugu film Grahanam. He was chosen from 15 nominations that came from across the country, including directors in Hindi, Tamil, Malayalam, Bengali, and English.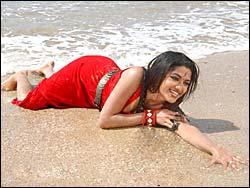 Mamta Mohandas, the hot heroine of Malayalam
Mamta Mohandas, born and brought up in Bangalore, was introduced to cinema by veteran director Hariharan in Mayookham. She then acted as Mammootty's sister in Bus Conducter, which was followed by the role of Suresh Gopi's wife in Jayaraj's Atbhutham, made in record time.
But it was in Lanka, opposite Suresh Gopi again, that Mamta truly arrived. She sizzled in the title role, and oozed oomph like no other Malayali actress before her. Considering all Malayali actresses are moving to Tamil and Telugu, it is probably just a matter of time before Mamta will too.
Her future projects in Malayalam include Keerthi Chakra, a film on the Kargil war with Mohanlal, Khaki with Prithviraj and Madhuchandralekha with Jayaram.