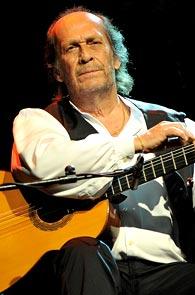 According to reports, the news was announced by the mayor's office in Algeciras in southern Spain, where Lucia was born.

One of the greatest musicians of the modern world died on Wednesday.
BBC reports that flamenco guitar maestro Paco De Lucia, 66, died of a heart attack while playing with his children on the beach in Cancun, Mexico.
The Spanish guitarist was to flamenco music what Pandit Ravi Shankar was to Hindustani classical music -- he made it global.
In fact, in a video that you can find on YouTube, Paco introduced Shankar to the wider jazz world.
Like all greats, Paco stretched the boundaries of his genre.

His collaborations with jazz guitar greats John McLaughlin and Al Di Meola resulted in masterpiece albums like Friday Night Live in San Francisco.
In 1995, Paco arranged and played on Bryan Adams's hit Have you ever really loved a woman. He was even featured in the video.
In an interview to Billboard magazine in 2004, Paco said, 'I have never studied music, I am incapable of studying harmony -- I don't have the discipline, playing with McLaughlin and Di Meola was about learning these things.'
He was, of course, being modest.

Paco started playing guitar very early on in his life, and under the strict tutelage of his father.

And throughout his career, his fiery and lyrical playing won him fans across the world.

Image: Paco De Lucia. By: Carlos Alvarez/Getty Images