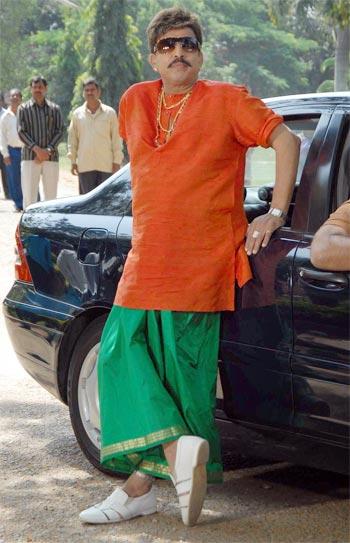 The publicity designs of Dr Vishnuvardhan's new Kannada film Bellary Naga have thrilled fans of the superstar. The film is a remake of Mammootty's Malayalam blockbuster Raja Manickam.
Though the film rewrote box office history in Malayalam film industry, it was panned by all for the crass way it was made.
Many people connected with the film industry are criticising its title as they feel it doesn't suit the actor's stature. His fans however are jubilant. Vishnuvardhan himself was asked about this several times, and his reaction was, "Watch the film and then tell me if the title does not suit the story or not." 
In an exclusive chat with rediff.com, Vishnu who speaks rarely about his films said that performing Bellary Naga's role was a challenge to him.
"This is one role in my career where I do not express through my eyes except in the last ten seconds. This character can be done only through body language and voice. This was very difficult because all these years I have expressed through my eyes. I can convey emotions strongly only through my eyes. But here was a role where my eyes are covered with dark glasses throughout. Still, the character has to emote and convey his inner feelings. Certainly it was a great challenge to an actor," the actor says.
Like Mammootty who spoke in a typical Trivandrum accent throughout Rajamanikam, Vishnuvardhan too will speak in a different accent.
He is a buffalo dealer in Bellary and has his own gang of friends. The story is about the protagonist going to his native village after several years. 
"Fans of Vishnu sir who are looking for some good action sequences will be in for a treat. Vishnu sir's dialogue delivery will be the major highlight of the film. Vishnu sir's colourful costumes and body language are in tune with the character," says Dinesh Babu, the director of the film. 
K Manju, the producer of this film wants to release the film on September 18, the birthday of the superstar.
Text: R G Vijayasarathy