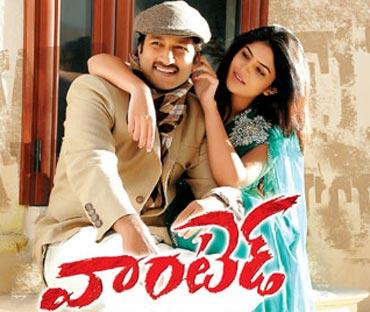 G Pawan Kumar reviews the Telugu film, Wanted. Post YOUR reviews here!

With films bombing at the box office steadily, the filmmakers are in no mood to take chances. Which means more action thrillers, glamour, comedy, emotion, suspense, friendship and of course a huge star cast, never mind if the plot is weak.

But this formula will not work if the screenplay is poor and that is what happens with Wanted.

Rambabu (Gopichand) is a young man who does nothing, literally. His parents (played by Chandramohan and Jayasudha) dote on him. Even as the youth his age are busy searching for jobs, they feel their son need not work as they are both earning. A weird logic indeed.

The queer parents also arrange a job interview for their son because he wants to get the feel of it! So our lucky Rambabu gallivants around the city with his cronies and kicks up rows wherever possible. He accidentally runs into Nandini (Deeksha Seth), a medico and protects her from some goons. It's instant love and he starts wooing her.

After a couple of dream songs we find the girl's actions suspicious. She gets nightmares, she goes to police stations without reason, takes money from the inspector and makes secret calls. Once she comes across a ruffian, she hides her face and tries to move away but he follows her and is shocked to see her. He drags her by her hair and pulls her to the jeep, which is reason enough for Rambabu to beat up the goon into a coma.

If you're expecting for some explanation behind Nandini's strange behaviour, you'll be disappointed as there's more puerile comedy and songs.

Parallel to this runs the story of Basivi Reddy (Prakash Raj) who is the local goon, a ganja dealer, who terrorises the police and politicians alike. It is evident that he has got something to do with Nandini's past. Suddenly Nandini gets a mysterious call about a ganja goon and she goes there alone, perhaps expecting Rambabu to follow her and true to her hunch he is there to save her as usual. But he decides that it is high time he know what the story is all about. So her past is revealed in a gory flashback, which means operation clean up for the hero.

The film looks like it is made to show case Gopichand's stunts. From the word go it is a bashing exercise for the hero. He fights hundreds of baddies effortlessly and there is not a drop of blood or a scratch on his body. However the scenes in climax show his face swathed in ketchup because he is warned that Nandini would be killed if he even dared raise his finger. So he gives his body for the baddies to thrash.

Brahmanandam's humour pales as the story unfolds. The comic track involving him and Raghubabu appears as if it is included to increase the film's run time. However Ali's brief appearance is hilarious.  

Gopichand, as the action hero, is apt for the role. He emotes well though his comic timing needs improvement. Deeksha, as Nandini, is pretty charming. She has a lengthy role and does justice to it. She looks quite alluring in saris. The on screen chemistry between the two is good. Chandramohan, Jayasudha and Prakashraj are okay.
Performances aside, the movie has nothing new to offer.
Rediff Rating: