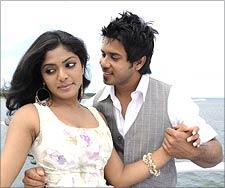 Pavithra Srinivasan feels Yuvan Yuvathi is mostly just bland and
insipid. Post Your reviews here!
It's a pity that director GNR Kumaravelan chose not to focus on a feel-good romance and instead went in for colourful songs by Vijay Antony, foreign locales, and some snazzy camera-work courtesy Jagadeeswaran. As Ram Pictures'
Yuvan Yuvathi
proves, these are not enough to make a movie interesting.
There is a sense of
déjà vu
about everything -- from the first few scenes at the US Consulate where Kathirvel Murugan (Bharath), wearing headphones and an overtly youthful costume, declares that he is part of the young generation, to where he barges into a quarrel with Nisha (Rima Kallingal, introduced in Tamil from Malayalam), who is also on her way to the US.
Both are rejected by the consulate, and full-fledged animosity develops on the part of Nisha. Kathir, after laughing at her through the first half-hour of the film, suddenly realises that he likes her brown skin and curly hair (in contrast to the pretty white-skinned girls he usually courts, as he coolly informs her). Thankfully, for the watching audience, Nisha isn't taken it.
Kathir's father, Sevaka Pandian (Sampath), is against love marriages -- he explains that this is because parents are incredibly disappointed when their children find their own mates instead of waiting for guidance from their elders and betters. Even as he bellows this philosophy to the high heavens, you know that his son is going to do the exact thing he hates. And so it happens.
Kathir takes to following Nisha and "helping her out", much to his friend Sakarrai's (Santhanam) disgust. Nisha at first hates him, and then suddenly becomes his great friend. And there it stops, because she is engaged to marry someone else.
After this very mildly interesting twist, you expect things to happen, but the screenplay just descends into mushy chaos as Nisha and Kathir are miraculously transported to the beautifully scenic Seychelles and much stupidity ensues.
Bharath and Rima Kallingal, as befits actors who have worked with challenging scripts before, have tried their very best to lift this one out of the mediocre, but there's only so much they can do with a shoddy screenplay that wanders all over the place and throws up the silliest sequences. Sampath, Sevvazhai, Divyadharshini and Krishna have been wasted. Santhanam is the only breath of fresh air.
As for the dialogues -- is this really writer S Ramakrishnan's work? You can only gape in disbelief.

Vijay Antony's songs are mildly pleasant, and that's all that can be said about it. 
Rediff Rating: