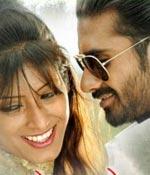 Shruti Indira Lakshminarayana reviews the Kannada film Yaksha.

Yaksha (Protector), a revenge saga directed by Ramesh Bhagvat, marks the Kannada film debut of Bollywood actor Nana Patekar.

Yaksha (Yogish), a college student, has an unusual interest in dons. His interest in magic and intelligence earn him a job with Machendranath Poonja, a don. With each deal, Yaksha becomes a close confidant of Poonja and it is not until Yaksha's family is alerted about his job by a police officer that the audience realises why a cop's son is working with a goon. Yaksha is even ready to sacrifice his love to continue his association with Poonja.

The story is not gripping and Yogish's performance does nothing get our attention. Even Atul Kulkarni as Poonja falls short of generating the required intensity. The actor has dubbed for the first time in Kannada.

Nana who plays Yogish's father makes his appearance only in the latter half of the second part but still manages to take over the film. In his opening scene he mouths his popular ek machchar saala admi ko… dialogue (from the Hindi film Yashwant), leaving you wondering what significance that dialogue has in the film. Nana does his bit, even dancing to a song and dubbing for the film impressively, but the story fails him.

Komal's comedy act seems forced and fails to impress. Hiranaiaha's grandfatherly act is not endearing. Yogish's brother Mahesh plays his onscreen brother in this film. He has to put his act together too.

To cater to Yogish's hero image, fights have been thrown in, but they fail to make an impact. Yaksha does nothing to take Yogish's career graph higher.

Heroine Rudy doesn't make her presence felt except in songs.
The music, barring the stylishly shot title track by Anup Silin, is not extraordinary.
In short, Yaksha has nothing to offer.
Rediff Rating: