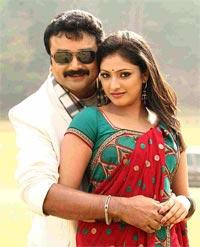 Paresh C Palicha says Thiruvambady Thamban tries hard to be a  mass entertainer but falls flat.
Thiruvambady Thamban
directed by M Padmakumar starring Jayaram starts like a typical 'Madurai' film. You see people with machetes chasing a person and then the villain gets down from a big car and kills the hunted man. The subtitles explain that this is happening in Madurai.
Then, we get to the typical Kerala milieu. This is a story of a big Christian
Taravadu
that deals with elephants and supplies them for temple festivals.
Thamban (Jayaram), the scion of the Thiruvambady clan carries on the traditional family trade when others have moved on to more lucrative and conventional businesses.
Thamban has the support of his father Mathan (Jagathy Sreekumar) and his uncle (Nedumudi Venu). So we get to see a lot of father-son repartee and the two getting drunk together.
The first twist comes when the family gets to know about Thamban's love affair with a girl who is of another religion and the daughter of a priest.
Anjali (Haripriya) gets some importance in the story for a while. There is a misunderstanding in the beginning and then the lovers elope, but issues
related to this relationship are solved quite amicably.
The next twist comes when rivals create roadblocks in the business, so Thamban, his father and uncle have to go to the famous Sonpur Gajamela to buy a new elephant. This was said to be the film's focal point but it just takes up five minutes and a song.
Thamban and the gang cross swords with the local self-styled ruler Shaktivel (Kishore). Shaktivel is after Mathan's head and the narrative becoming a cat-and-mouse game with a couple of confrontations between the hero and the heroine thrown in for good measure.
It was during the shooting of this film that Jagathy Sreekumar met with a serious road accident, so we can ignore the lapses in the narrative structure.
But the basic premise of writer S Suresh Babu is flawed. Thankfully, the bloodshed is toned down here unlike in a typical 'Madurai' movie. It is basically a Malayali talk-a-thon depending more on dialogues.
Jayaram tries to cater to his fan base that loves his comedy and his banter with Jagathy Sreekumar and Nedumudi Venu does have some charm, but doesn't hold our attention for long.
Thiruvambady Thamban
tries to be a typical mass entertainer catering to the tastes of a mixed audience but in the end cuts a sorry figure.
Rediff Rating: