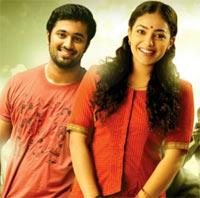 Paresh C Palicha feels
Thalsamayam Oru
Penkutty
fails to create an impact with the audience.
Directed by T. K. Rajeev Kumar,
Thalsamayam Oru Penkutty  
 is inspired from Hollywood films like
ED TV
and the
Truman Show
, taking the craze of reality television to the extreme, yet it is able to charm us initially.
The film is about a television programme with eponymous title where TV cameras follow a female (the gender bias is never explained) during the day time for a month and it will be televised live. How she faces odd daily life circumstances will be gauged in an interactive manner where the viewers can sms their opinions on day to day basis.
The first contestant selected for this innovative concept is Manju (Nithya Menon), a rustic girl who looks naïve to cope with big bad urban world. But, she has the support of Zarina (Shwetha Menon), the producer of the programme.
As far as TV viewers are concerned, they seem to be hooked from day one itself when Manju takes her own sweet time to get out of the bed. Now, our girl has to deal with the real issues, on the first day she catches up with the Opposition Leader of
the State on his morning walk and talks about the power woes of her Panchayath thereby getting brownie points from the viewers.
Next, she slaps a young molester in an Air-conditioned State transport bus  making her popularity soar even further. After a few such instances, we are shown how the top honchos of the channel (mild bad guys) played by Siddique and Baburaj try to manipulate things as they need more eyeballs to attract solid sponsors. That is not all, our girl even gets stuck by Cupid's arrow during the course of this programme; Surya (Unni Mukundan), a stammering common guy who is working as an assistant choreographer in films.
This quirky theme is somewhat saved by the lead performer Nithya, a village belle with stars in her eyes in beginning and gaining confidence as she progresses no matter how uneven the story becomes.
She is ably supported by a stable performance by Shwetha Menon, a lady with a mature world view and heart in the right place. Unni Mukundan as the leading man appears just as a guest. The support cast like Manianpilla Raju as Manju's father and Tiny Tom as the local politician have longer role than him.
All seen and endured, we just wish the lively story of a girl was spiked up with a little realism.
Rediff Rating: