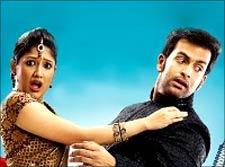 Paresh C Palicha feels Prithivraj does not impress with a comedy role in Tejabhai and Family. Post YOUR reviews here!
It had become necessary for Prithviraj to do a light-hearted film to prove his versatility as comedy was one genre he had not touched before.
The result is
Tejabhai & Family
, directed Dipu Karunakaran where he plays a underworld don based in Kuala Lumpur and falling in love with a girl who is into social work.
There is not much of a plot to talk about except that a dreaded underworld don falls in love with a girl and that it changes his life. The girl is Vedhika (Akhila), who is into social service.
So to woo her, Tejabhai becomes Roshan Varma after five in the evening and be with his lady love pretending to share her passion for selfless service. It is difficult to say whether we should be thankful or not that we are spared of the details of their first meeting or how they fell in love.
There is also Vedhika's father Damodharji (Thalaivasal Vijay), a successful businessman who goes by family reputation and standing in the society. This makes our don to shift base to Kerala and find a family for himself.
Now, it goes without saying that there are a string of comedians who come as his uncles and aunts --
from Jagathy Sreekumar, Jagadheesh, Salim Kumar and even Kochupreman. Not to forget Suraj Venjaramudu who plays the role of a fraud spiritual Guru to Damodharji.
To give credit where it is due, the film does begin on a good note and has quite a few comic situations and dialogues, which the director has written. But the standards keep dropping as the plot moves forward.
Prithviraj tries his best to be good at silly comedy, but the truth is that he has done better in the roles that incorporated humour as a intrinsic part of the character rather than in a film that is comedy for comedy's sake. His getup is the same as we saw it splashed in the media after his wedding with a stylish goatee and a thick moustache that does not go well with the silly character he is playing.
Akhila's role requires her to just look pretty and sometimes concerned; other than that there is not much demanded from her. As for the rest of comic ensemble, there seems to be a competition to find out who is the silliest of them all and it goes without saying that Suraj Venjaramudu wins it hands down. We just feel sorry for other veterans like Jagathy and Jagadheesh who do not have much to contribute.
Final words: there was much riding for Prithviraj on
Tejabhai and Family
to prove his calibre in comic roles but he is just silly in this so-called comedy.
Rediff Rating
: