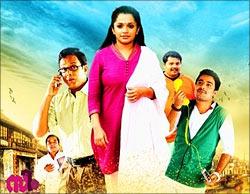 Director Diphan tires to steps out of his comfort zone but fails to deliver a good film in SIM.


It's exciting when a director steps out of his comfort zone and tries something different or new. Director Diphan is known for his action thrillers such as Puthiya Mukham (2009) and Hero (2012). In latest film SIM he has tried his hand at comedy, and that, too, with a lesser known cast.


Unfortunately, the excitement does not survive even the opening titles, where male and female voices are heard flirting with multiplepartners over their cell phones interspersed by long beeps signifying that the conversation has touched on unmentionable words.


Diphan just stokes the paranoia that the Malayalam film industry has for cell phones and other modern communication devices, though in a humorous manner.


He uses an elongated prologue to show how people begin relationships over the phone and try to take advantage of each other before ending it by changing the number.


The main story is about a stereotypical Iyer in his late thirties and still a bachelor. Seetha Raman Iyer (Manikandan) has all the qualities that we have seen in characters depicted over the years in films.


He is a pure vegetarian who starts fighting with his neighbours who eat non-veg food. Seetha, as he is called, much to his chagrin, is a government servant whose colleagues are always ridiculing him and trying to put some sense into him. They even convince him to register in a matrimonial club and put an ad in the newspaper.


The most important thing they do is get him a cell phone. And, then Seetha's life begins to change as if the phone was a magic wand.


He finds the girl of his dreams in Pooja (Ann Augustine) and starts communicating with her using a fake name.


Pooja has her own back story with the cell phone, which leads to confusion and misunderstanding between them initially.


We expect a Salt & Pepper kind of love story between two grown up individuals, but the proceedings hit a dead end by half time.


Manikandan shows promise as he is capable of handling the kind of roles Sreenivasan did in the late eighties and the early nineties, but he is grossly let down by the script. Ann Augustine has nothing much to do as the leading lady.


Anoop Chandran and Vinod Kovoor are good in supporting roles; they do brighten up a couple of scenes with their presence.


Final words, on the whole SIM gives a feeling of disconnect.
Rediff Rating: