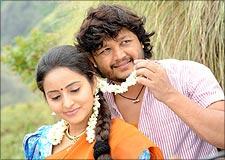 Shruti Indira Lakshminarayana feeks Shyloo is worth a watch if you haven't seen the origina film Mynaa.
After giving a hit like
Cheluvina Chittara,
director S Narayan casts Ganesh in yet another intense love story,
Shyloo.
Manja (Ganesh) has always had a liking for Shyloo, right from when they were kids. Over the years, Shyloo (Bhaama) also develops feelings for her caring friend and the relationship turns romantic. But Shyloo's mother wants an educated son-in-law, which disqualifies Manja. Not one to give up easily, Manja runs off with Shyloo.
So deep is their love that you want the love birds to live happily ever after, but do all love stories necessarily have a happy ending?
Those who have watched the Tamil super-hit Mynaa already have the answer and for those who haven't, we suggest you watch this film to find out.

As the film progresses the intensity of their love for each other grows. There are also some laughs in the second half courtesy Rangayana Raghu.

The script writer can take a bow for coming up with an emotionally charged story. Raghu and Suchendra Prasad do justice to their roles and Ganesh gives a good performance--the body language and emotions are just right.

Bhaama looks good from the start and as the film progresses she slips easily into the skin of an innocent village belle.

There nothing new about the music. A special appearance by Narayan's son and actor Pankaj in a song rendered by actor Puneet Rajkumar also fails to impress.

If you're planning to watch Shyloo, make sure you have a heart that can withstand both love and its losses!

Rediff Rating: