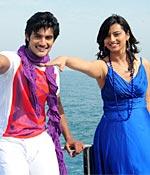 Radhika Rajamani reviews the Telugu film, Prema Kavali. Post YOUR reviews here!
Prema Kavali is yet another love story. It is fresh only in terms of introducing new kids on the block Aadi (son of actor and dubbing artiste Sai Kumar) and Isha Chawla as the lead protagonists. Director K Vijayabhaskar, known for his love stories has helmed a film loaded with action, song and dance to showcase the hero Aadi's fighting and dancing skills. Otherwise the love story is on familiar terrain.

Srinivas (Aadi) loves Prema (Isha Chawla), the daughter of a police officer played by Nasser. Prema is blackmailed by Shafi (on account of a photo that shows she and Srinivas kissing). Since she is scared of her father, she doesn't tell him but confides in her sister-in-law (played by Sindhu Tolani).

She decides to break up with Srinivas because of the kiss. Meanwhile Srinivas returns after a two-month NCC camp. When he comes to know about Prema's decision not to see him, he decides to woo her back. All love stories can't be rosy, so there's Thakur (Dev Gill) as villain. There's a terrorist angle too.

Vijayabhaskar has chosen the beaten path, story wise. He has however got Chota K Naidu as Director of Photography who has enhanced the film with his brilliant and breath-taking camera work. In fact it is the cinematography which stands out -- be it in the songs or the action sequences. Anup Reubens' musical score sounds fine.

Aadi makes a sincere and earnest effort to carry the film on his shoulders. His enthusiasm is reflected on the screen. Aadi is flexible and nimble on his feet and dances well. He tries to downplay his acting and not go over the top. On the whole, he has a product packaged to showcase him well.

Isha Chawla too tries to be subtle. The chemistry between the lead pair is just about okay though Isha looks a bit older than Aadi in a few scenes. Shafi is a good actor but is wasted in such inconsequential roles. The band of comedians like Brahmanandam, M S Narayana and Ali are seasoned enough to do their parts well.

Prema Kavali is one of those love stories with a melange of all commercial elements.
Rediff Rating: