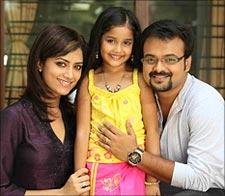 Paresh C Palicha reviews the Malayalam film, Race. Post YOUR reviews here!
Is it not naïve on the part of film-makers to 'get inspired' and copy a successful film and then claim that it is fresh and a 'never seen before experience'? It is laughable when these film-makers do so a few months after the original film hits the theatres.
Kukku Surendran is one of such copy cat. His new film
Race
is very similar to
Cocktail
another Malayalam film, which itself was inspired by
Butterfly on the Wheel
.
Race
stars Kunchacko Boban and Indrajith. It tells the story of a successful cardiologist Eby John (Kunchacko Boban), who has to spend a dreadful day in Bengualuru, where he is attending a conference. Shweta (Gowri Munjal) tells him that her friends have kidnapped his daughter and his wife Niya (Mamta Mohandas) and are holding them captive in their home. It goes without saying that the child's life will be in danger if he fails to meet their demand for Rs 1 crore within twenty four hours. Hence the title,
Race
denoting 'race against time'.
The screenplay by the director and Robin Thirumala makes the film claustrophobic with the main characters confined to closed places and the progress in the narrative is through dialogues. Dialogues are cliched if not hackneyed. The most disappointing thing about the plot is that it is predictable from the word go. There are no elements of surprise or shock to hold the viewer's attention. Not only is the premise stale, it is boring as well as the cast does not seem to be involved enough in the proceeding. Everyone seems to be sleepwalking through their parts.
Kunchacko Boban, who has been through a good run last year and topped it up with
Traffic
in the beginning of this year, seems to be out of form. He does not bring anything special to the character. Indrajith as the villain has a stubble that seems to change shape with every change in the camera angle. Mamta Mohandas has to look attractive, which she does by showing off her tattooed back and limbs. Gowri Munjal has to look like a vamp in the first half which she does with the help of gaudy makeup and revealing clothes. Jagathy Sreekumar gives us hope initially as the stammering accomplice to Indrajith, but he too ends up disappointing us, which is a rarity in itself.
In the end, this Race seems to have had a false start.
Rediff Rating: