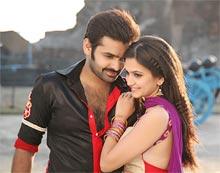 Radhika Rajamani says Ongole Githa is pretty boring to watch despite the good performances by the lead cast.
Director Bhaskar perhaps wanted to explore slightly different terrain from what he's familiar with, in Ongole Githa. He's made a mass entertainer, a product that is predictable and strenuous to watch.
The energetic Ram Pothineni plays the lead role together with the pretty Kriti Kharbanda in yet another good-versus-evil drama. But they are not enough to sustain the film.
White (Ram's name in the film) is a young boy working in the Guntur chilli yard. From selling lemons he soon rises to be a big trader. He falls in love with Sandhya (Kriti Kharbanda), the daughter of the market yard chairman Adikeshavulu (Prakash Raj).
Later one realises that White has an agenda in doing so. In fact, everything is pre-planned.
The local MLA Narayana wants to shift the market yard to another area. There's a twist here as Narayana (Prabhu) and Adikeshavulu have a past. The whole film now revolves around those two aspects.
The film revolves around Ram and he comes up with a highly energetic performance keeping you glued to the screen - be it his dealings at the mirchi yard and with Adikeshavulu, or his romance with Sandhya.
The romantic track is a bit offbeat and fun to watch. The chemistry between Ram and Kriti crackles though Kriti as Sandhya doesn't have much to do in the film.
The character of Adikeshavulu is interesting, shading from grey to black. Prakash Raj was superb in this role with his ability to depict changing emotions like a chameleon!
The director, though, was unable to plug the loopholes in his tedious script which went on and on, meandering in an unexciting way. This was perhaps because Bhaskar wanted to cater to the mass audience and thus introduced elements and characters that would suit that market.
The scenes with Narayana and White did not evoke the necessary emotions and their relationship was not really spelt out clearly. Ali's role too seemed unwarranted. Abhimanyu Singh, for instance had not much of a role to play. It was such a waste of talent of a good Abhimanuy and sad to see him reduced to the level he played in the film.
The technical aspects of the film are above average. The script was the dampener as far as this film is concerned. It's a pity that Ram's earnest efforts couldn't salvage it much.
Perhaps Bhaskar should have stuck to the path he knew best instead of deviating from it. After, all he gave us such enjoyable films as Bommarillu and Parugu. This one sadly didn't seem like a Bhaskar film.
Rediff Rating: