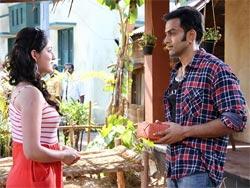 Paresh C Palicha says Hero ends up as the usual action film
The silhouette of the protagonist appears with a halo at the back, then we see his rippling biceps before he starts beating a dozen bad guys and throwing them around as if they were paper planes. After a while we see him showered with flowers.
Hero,
directed by Diphan, is the story of a stuntman Anthony (Prithviraj) who stands in for the superstars in life-threatening scenes in a film.
He had once dreamt of making it big in the industry, but, was forced to do an Eklavya kind of sacrifice and be a fighter for rent.
Then, his guru Dharamrajan Master (Thalaivasal Vijay) needs him to come and complete a big project and like any good disciple, Antony can't say no to his master.

As we have seen in many of these 'film within a film', there is politics, old animosities, hierarchies, big egos etc.

There is Udayan (Bala), Master's nephew and big time action director (for whom Antony had to leave the industry), star Premanandh (Srikanth), whose ticket to stardom is his father's political clout (he is the son of the home minister of the state), and the heroine Gowri (Yami Gautam), who eventually becomes Antony's love interest. And there is the director Adhityan (Anoop Menon), who seems to be the only sane voice around.

As the narrative unfolds, the lowly dupe becomes the hero. The kernel of this film is similar to Puthiya Mukham (2009), made by the same actor-director team. The campus of an engineering college, which was the backdrop of the former, is here replaced by the film industry.

Technically, some portions of this film jar. We expect the action shown to look natural if not raw, but instead people keep flying off like they were paper planes.

Prithviraj carries this film on his bulging shoulders. He works really well with whatever material he has got and his tanned make-up with golden lenses adds to his persona.

Srikanth does not project the stature required of a villain. He is shown as a caricature of superstars that we have seen many times in the recent past.

There are some glaring inconsistencies in the characterisation as he is shown to be timid and scared of physical injury until the climax when he somehow matches the hero punch for punch and kick for kick.
Yami Gautam as the heroine is a typical starlet with a golden heart who is sensitive to the problems and pains of people in the lower strata of the industry.
On the whole,
Hero
does try to be different in telling the story of a stuntman, but ends up as the usual action film in the 'cinema within cinema' format.
Rediff Rating: