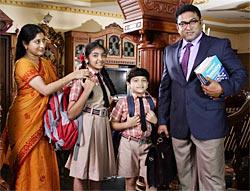 Paresh C Palicha says Naughty Professor has some insensitive jokes which degrades the film.
In Malayalam cinema, every actor thinks he is a star whether he is the leading man, a sidekick, a villain or one of the hero's stooges. The latest example is actor Baburaj, who was used as a punching bag by the hero for more than a decade, and suddenly found himself in the limelight when he played the role of a cook with a humorous streak in
Salt n' Pepper
last year.
Now people chuckle as soon as he makes an appearance on the screen. This has given him the gumption to appear in a full- fledged comic role in
Naughty Professor
, written by him and directed by
Harinarayanan
.
As the name suggests, the story is about a naughty professor (what he teaches is not very clear) played by Baburaj. He is 'naughty' because he is largely on the students' side and not the faculty's. He will give anything to look and feel young, like spending a fortune on a hair transplant (by taking out a housing loan). And it goes without saying that he is attracted to the opposite sex in spite of being married to a former film star, played by Lakshmi Gopalaswamy, and having two kids.
The reason for Prof Vishwambharan's wayward behaviour is his low-self
esteem consequent on being known always as actress Karthika's husband. He is also facing a mid-life crisis of sorts health-wise.
His partner in crime is his neighbour Francis (Innocent), a USA returned businessman whose wife and daughter are still working as nurses. Karthika's decision to return to acting in a daily soap on television precipitates several events.
The film seems to be inspired by the recently released
Ee Adutha Kaalathu,
where Murali Gopy plays a similar, though more serious, character.
This film is supposed to be a comedy but the humour is crude if not outright offensive. What is more distasteful is the 'make hay while the sun shines' attitude of the think-tank behind this venture, targeting the lowest common denominator purposely.
There's not much to crow about in the acting department either. Baburaj produces his standard comic performance. Innocent's character reminds us of a similar role he played in the early nineties in
Pakshe,
and Lakshmi Gopalaswamy cuts a sorry figure.
All seen and suffered,
Naughty Professor
is your kind of film if you enjoy humour of the offensive and insensitive kind.
Rediff Rating: