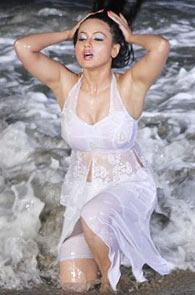 S Saraswathi saysNadigayin Diary, supposedly a biopic of Silk Smitha who had such power over men of all ages, is an uninspiring tale and a big letdown.

They say some people never die, and this seems to be true of Vijayalakshmi Vadlapati, popularly known as Silk Smitha, the sexy siren of the South, who once ruled South Indian cinema with her seductive eyes, voluptuous figure and titillating dance numbers. She was considered the ultimate symbol of sensuality and her mysterious death in 1996, suspected to be suicide, only added to the speculations surrounding her already controversial life.

Film makers even today seem to be fascinated by the story of her life, which undoubtedly has all the makings of a great movie - love, lies, sex, tragedy and death.

First it was Vidya Balan, who won the National Film Award for Best Actress for her bold and brazen portrayal of this sexy diva of the South in Dirty Picture.

Currently, the Pakistani bombshell, Veena Malik is in the limelight for Silk Sakkath Hot Maga, a Kannada version of Dirty Picture.


Climax, a Malayalam film, also based on the life of Silk Smitha released a month ago, but got a poor response and failed at the box office.

And now it is Nadigayin Diary, a dubbed version of the Malayalam film, for Tamil audiences.

Anthony Eastman, who introduced Silk to the Malayalam film industry, is credited with the storyline and Kaloor Dennis has written the script for this film.

The film is directed by Anil and stars Sana Khan, Aravind, Subin Sunny, Irshad and Suresh Krishna.

Nadigayin Diary is a 'rags to riches' story of a young maid, Ponkudi (Sana Khan), who rises to stardom after being introduced by a famous Malayalam film director Anthony Victor (Irshad). Anthony renames her Sumitha.

The film deals with the trials and tribulations of Sumitha's life in an industry that is fraught with insecurities, uncertainty and the humiliation of the casting couch. As she grows popular, a business tycoon, Ram Kumar (Suresh Krishna) comes into her life.

Expressing concern for her life and career, he gradually befriends her. It is only later, when she moves into his home and falls in love with him that she realises that he is married and has a grown up son. How this affects her career and life is what forms the rest of the story.

The entire film is in the form of a narration by Anthony who is recounting the story of Sumitha to a producer, who is interested in making her life story into a film.

This becomes so boring at times, that it is pathetic. That a story about the Sizzling Silk could sound so mundane is really surprising. Neither the dizzying heights of success she reached during the peak of her career, nor the unfortunate lows that drove her to depression and ultimately to her death, has been portrayed adequately by the director.

Though quite attractive, Sana Khan has failed to bring out the sophisticated sultry sexiness that was the trademark of Silk Smitha. Sana, who became popular after she participated in the celebrity TV reality show, Big Boss is currently in the limelight after she bagged a coveted role opposite Salman Khan in his upcoming movie, Mental.

Nadigayin Diary, supposedly a biopic of Silk Smitha who had such power over men of all ages, is an uninspiring tale with an absolutely boring script and cast, making the film truly unwatchable.

Rediff Rating: