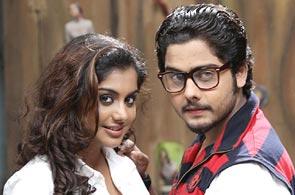 In spite of it's cliche Malayalam movie Tourist Home makes for an intersting one time watch writes Paresh C Palicha.
Director Shebi's film Tourist Home tells the stories of the people occupying nearly a dozen rooms in a dingy downmarket lodge in the centre of the capital city. Not exactly a new concept, but much of it is fairly engaging and holds our attention.
The stories are told without any technical gimmickry or razzmatazz. The camera just passes through every room, hardly ever changing even the angle, but adding layers to the characters and making them denser with each passing.
One of the rooms is used as a gambling den by a couple of thugs. Its regular patrons include a lowly politician, a money lender and other such characters. A debt-ridden young man who faces eviction from his home in distant Malappuram loses the last bit of hope after he is incited by the others to try his luck at cards one more time and loses.
In another room an astrologer counsels his clients, who include a teenager fantasising about an actress and an old man having sleepless nights worrying about nothing in particular.
A third room is occupied by two pickpockets who are in dire need of money to clear their dues but when they get the amount, they are filled with remorse and search for redemption for their actions.
A teenage student is anxiously waiting for his girlfriend to visit his room for the first time, and finds that she is using him to sort out the tangled web that her parents' life has become.
There are other interesting narratives. Like the pregnant woman who has come here with a man and the two initially look like the ideal couple. Later it is revealed that the pregnancy is the result of an extra-marital affair and it is too late for them to find the usual solution.
Two young friends waiting to start a new life are on their last trip together before one of them flies off to begin a new life. Then one gruesome act of theirs buries the bright future in darkness.
There is a huge assembly of actors playing these characters including Nedumudi Venu and Kalabhavan Mani among the veterans and Hemanth Menon, Roshan Basheer, Sreejith Vijay and Meera Nandan representing the younger set. Sreejith Ravi and Lena are also in the film.
With less than two hours of run time, one feels that justice has not been done to the talent at the disposal of the director. A couple of cliched tales could have been avoided and the interesting ones could have been given more depth or made tighter.
Yet, Tourist Home is an interesting one-time watch.
Rediff Rating: