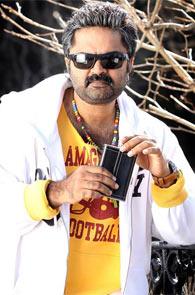 Paresh C Palicha says that Malayalam movie Buddy depends too much on its lead actor Anoop Menon who disappoints badly.
The Malayalam film industry is trying to push the envelope every week with subjects that can be termed as 'new gen'. Most of the time, the plot is inspired by foreign films.
Director Raaj Prabavathy Menon's first film, Buddy, is inspired by the Oscar nominated American film The Kids Are All Right (2010).
Vishnu (Mithun Murali), now a teenager, has been brought up by two women, Meenakshi (Asha Sarath), an internationally acclaimed English author, and Padma (Bhumika Chawla), who is doing research in traditional dance forms of South India. There are doubts about whether the women are in a lesbian relationship and they enjoy the attention such rumours bring.
They have promised Vishnu that they will reveal the secret of his parentage on his eighteenth birthday. The boy has no problems being a member of such an unconventional family. When it is revealed that he was born out of a procedure called artificial insemination, and the identity of his father is unknown, Vishnu goes onto the Internet to find out more about the procedure and find his dad.
As Vishnu is poor in biology, he cannot understand the conceptr of artificial insemination and has to see Dasharatham, a very well known Malayalam film about surrogate motherhood made in 1989, to know all about it. His search for his father zeroes in on Manikunju Thadikkaran (Anoop Menon), a rich, happy-go-lucky fellow who lives with his good-for-nothing friends in Oot
From here, the film is full of typical Anoop Menon philosophy as if he is a spiritual guru. He tells Vishnu that he does not feel any fatherly emotions towards him and they can be buddies at best.
This is followed by some high funda dialogues, drinking, smoking etc as father and son begin to bond.
The film is overly dependent on Anoop Menon, who tries to be a cool 45-year-old man with grey hair and beard and is a sore trial to viewers.
Asha Sarath does leave an impression in a very curtailed and bold role. Bhumika Chawla has to smile sweetly or weep sorrowfully but manages to get a few words in between, and does it well.
Mithun Murali has a long way to go before he can make a real impact. One feels sorry for the veteran Balachandra Menon who appears as one of the older men in the group.
Buddy is yet another film that tries to be innovative but can't pull it off.
Rediff Rating: