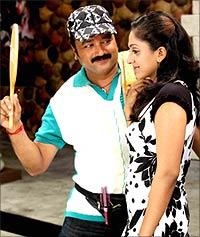 Paresh C Palicha reviews the Malayalam movie, Makeup Man . Post YOUR reviews here!

Stories with films as a backdrop always make for an interesting viewing if handled deftly. Not only does the premise provide emotionally charged characters, but they are also intriguing as there will be biographical elements of the people we admire on the screen and even behind the scenes. There is also ample scope for humour.
Director Shafi joins hands with writer duo Sachi and Sethu to utilise these scenarios to the optimum in his new Malayalam film Makeup Man with Jayaram in the lead.

The story credited to the director himself is about a husband who has to pretend to be his wife's makeup man when she lands up doing lead roles in films by accident.
Balu (Jayaram) is neck deep in debt, so much so that he has to enter his own house after dark like a burglar to avoid bumping into his creditors. We are told that he is in love with Soorya (Sheela), who was his fiancee once but her parents backed out of the marriage because of his worsening financial condition. Still Soorya avoided any other alliance. As fate would have it, she is chosen as the leading lady of a film before the marriage is consummated.

It takes just about half an hour to tell the story so far. After that the couple dodges one tricky situation after other, things take a serious turn just before the interval. Till then we are treated with an overdose of humour, with characters like maverick director Siddharath (Siddique) and an old fellow Paul (Janardhanan) as the producer, who is waiting for a chance to spend some time in his leading lady's room. Then there is production controller Kichu (Suraj Venjaramoodu), Balu's friend who is pivotal to the story.

The pace of the narrative does not give us time to think of logic in the story. To the credit of Sachi and Sethu's team, they get away even with 'below the belt' sort of humour. However, the film is not up to the standard of their previous film.

Makeup Man will be a success for Jayaram considering the sub-standard films he has been associated with recently. There's also the much hyped cameos by Konchako Boban and Prithviraj playing themselves. And, the others in the ensemble cast like Jagathy Sreekumar and Salim Kumar doing their standard work will surely please the crowd.

All in all, leave your brains at home and enjoy Makeup Man.
Rediff Rating: