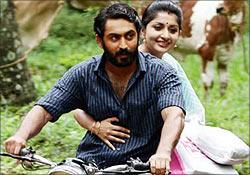 Parech C Palicha says that Lisammayude Veedu, a sequel to the much appreciated Achanurangaatha Veedu is a half hearted attempt by an otherwsie talented director Lal Jose.
Lisammayude Veedu
is one of the most eagerly awaited films of the year as Meera Jasmine makes her appearance in this movie.
It is said to be a sequel to the much appreciated
Achanurangaatha Veedu
(2006) that gave Salim Kumar his first State Award for best actor. It told the story of a father's suffering as his under-aged daughter is kidnapped and is forced into a sex racket. Babu Janardanan, the scriptwriter for that film, directs the sequel.
In
Lisammayude Veedu,
the young girl Lisamma (Meera Jasmine) has grown up and seems to have adjusted to her past. She runs a telephone booth and looks after her two sisters and her father who has lost his mental balance after seeing his daughter suffer.
She, however, looks on life with a somewhat caustic sense of humour and has become worldly wise. Her brave attitude wins her an admirer in Shivankutty (Rahul Madhav), who is a head load worker and has communist ideals. He also acts as a strongman for his party when required.
The two get married and life is good for Lisamma as she gives birth to a baby boy. When the child is four years old, Shivankutty's past catches up with him and he is killed by his enemies.
The film comments on current situations, is critical of the leftist ideology, and espouses the theory of what goes around comes around.
Lisa's sufferings do not end with her husband's death. Her son goes off the rails, spends his teenage years in a juvenile home and is sent to the central jail after that.
Meera Jasmine is shown growing up from her early twenties to her late fifties with an overdose of make-up. Her performance is average. Rahul Madhav has a surprisingly arresting screen presence and is impressive.
Coming to the supporting cast, Salim Kumar as Samuel, who was in the thick of things in the previous film, is sidelined here. Jagadhish, who replaces Murali as Samuel's son in this film has a few noteworthy scenes.
It's difficult to like a film where one has no empathy for the leading characters as in
Lisammayude Veedu.
This was not the case with the earlier film directed by Lal Jose.
Rediff Rating: