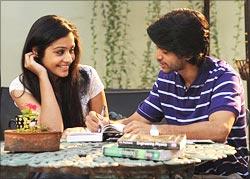 Radhika Rajamani says Life Is Beautiful  is a film with roller-coaster ride of emotions and some good performances.
Sekhar Kammula's films are simple tales with strong characterisation, drawn from his environment and experience of life. Memories, reminiscences, nostalgia, emotions are seamlessly woven into the kernel of the story.
Life Is Beautiful
is no different. It is the tale of youngsters living in a colony, the divide between the rich and the middle class (the film tends to veer more positively towards the middle class), the squabbles between the two classes, the festivals, the celebrations, and their outlook on life.
The film is inordinately long (by today's standards) at 169 minutes.
 There are many characters and it takes a while to figure out their relationships. The film is realistic and heart-warming, emotional and uplifting.
Srinu (Abhijit) and his two sisters Satya (Rashmi)  and Chinni (Kavya), arrive in Sunshine Colony, in Hyderabad to live here for a year as they are told by their mother (Amala Akkineni) that she has been transferred and they must live with their maternal uncle and grandparents.
The three find friends in the colony. Srinu befriends Abhi (Kaushik) who's quite a nerd, and Nagaraj (Sudhakar) who doesn't do anything in particular but is friendly and helpful. They meet during a cricket match where Srinu steps in for another player.
 The crucial match is between the Gold phase (the richer blocks of the colony) and the B phase. Srinu ensures victory for the B phase, much to the chagrin of his rivals. From then on the rivalry between the two gets bitter especially after Srinu's cousin marries a girl from the Gold phase. Padmavathi (Shagun), Sreenu's cousin, who lives in the same colony, falls in love with him. Lakshmi (Zara) arrives from Vizag as her father has got a job as a security guard.
There's Maya (Anjala Zaveri) who is helpful to the boys and girls in the middle class blocks. Paro (Shriya) is an aspiring Miss India contestant, a rich girl with admirers in Gold phase.
The tale (which is narrated by Srinu) is filled with revenge and rivalry between
the boys of the two areas of the colonies interspersed with romance, festivals, daily life, etc.
The rich boys are made to look too snobbish which is a rather one-sided presentation. The middle class boys, Srinu, Abhi and Nagaraj, strike up a solid friendship. Srinu and his sister come to know something about their mother which is revealed towards the climax.
The film is a tale of daily life in a community and about the responsibilities and adjustments one has to make in life. Srinu's character amply exemplifies this as he has to look after his sisters and live with others in a joint family.
 While it's interesting to see the interplay of emotions, the settling of scores, the bonhomie, the love pangs, all this takes up too much time. The revenge drama too takes up a lot of time. The movie could definitely have done with some trimming.
Echoes of
Happy Days,
the director's earlier film, hang over
Life Is Beautiful
which is also a tale of youngsters. Abhi's character is similar to Tyson of
Happy Days
. The songs also are montages mostly, as in
Happy Days
.
 Sekhar's intention seems to be noble – to recreate memories of the colony style of life which is fast eroding. In that sense
Life Is Beautiful
is a huge slice of nostalgia which many can relate to.
Amala Akkineni comes up with an impactful performance as the widowed mother. She is graceful in her portrayal and in the climax delivers a subtle yet powerful performance.
 Anjala Zhaveri exuded a lot of oomph on screen. Shriya's role suits her and she looks glamorous too.
Among the newcomers, the three boys Abhijeet, Sudhakar and Kaushik, acted well though it was their first film. So did Shagun, Zara and Rashmi.
The colony set by Thota Tharrani is realistic. Vijay C Kumar's camera work was deft. Mickey J Meyers' music and background score were melodious. Marthand Venkatesh could have edited the film more tightly.
Life is Beautiful
may be long, it may be similar to
Happy Days
and have certain flaws, but this Sekhar Kammula film appeals to our emotions and experience of a certain way of life.
Rediff Rating: