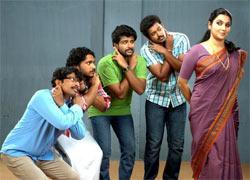 Paresh C Palicha feels that Last Bench is a major disappointment

How many times have we seen good-for-nothing students get transformed because of a teacher? Most of the time this plot works as it makes us nostalgic about our own student days.
That will be a major incentive for going to watch
Last Bench
directed by newcomer Jiju Asokan. But it turns out to be a disappointment. Not only because of the tacky production values but even the way the story is handled.
The story is about four back-benchers in a government school who become successful later in life because of the influence of a charming teacher (Sukanya).
The screenplay, credited to the director himself, tries to be interesting
as it tracks back and forth from the point of view of the four classmates who are having a reunion at the wedding of one of them.
The four were mischievous in their boyhood but not harmless. Their mischief was life-threatening for some and made a psychological dent in others.
Mahesh (of Tamil film
Angadi Theru
), and Vijesh (who became famous as the burly Noolunda in
Swapnakoodu
long ago), are among the foursome.
The four friends remember their past as if it had happened just yesterday (be it the infatuations or grudges) and rue the fact that time has passed. Most of the reminiscing is done under the influence of alcohol.
Last Bench turns out to be a major disappointment
Rediff Ratings
: