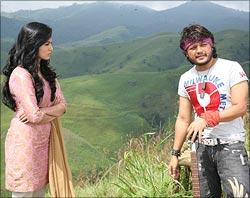 Shruti Indira Lakshminarayana reviews Kannada film Kool. Post YOUR reviews here!

Ganesh's directorial debut Kool is a love story. 
The actor plays Rahul, a happy-go-lucky college-goer. He and his gang of friends are hell bent on making fresher Kajal's (Sana Khan) life miserable. The lady puts up a tough fight but not for long, as she gets bowled over by Rahul's charm.
Kajal declares her love and Rahul promptly reciprocates. But there's a twist in the
kahani
just before the interval.
Rahul meets with an accident while waiting for his lady love on Valentine's Day and resurfaces a few weeks later as MJ, a rock star. Now, it's the turn of the Rahul lookalike to say '
Kaho na pyaar hai' 
but is Kajal ready to forget her first love?
The film has an aesthetically done title card that suits the summer mood. But the story is not different from college love stories that have been in the making for years. The semblance to Shah Rukh Khan kind of characters doesn't go unnoticed either.
Dialogues are not that impactful. The comedy does not carry through. Even Sharan as Suicide Suresha does little to make you laugh. His character gains some strength in the second half though. Sadhu Kokhila does little to tickle your funny bone. 
The film is Ganesh's home production and the actor does well by giving a chance to a string of newcomers. But none of them make a mark, including television host Niranjan. The lad, who is otherwise bursting with enthusiasm on screen, fails to move you with his college boy act.
Besides, Ganesh is an actor who can do without a group of friends to bring out his heroism.
Ramkrishna, a veteran actor, who plays Ganesh's father, has little significance when it comes to the script. In fact, at some places you find the flow missing from the story too.
Ganesh, the director, may take a while to piece things together but the actor in him manages to stay chirpy. He has even shed weight to fit into the character and sports clothes that go with the young generation. His dance moves are better too.
Coming to the leading lady, Sana could have been a little more liberal with her emotions.
Music by Harikrishna is okay. While the title track and the song Coffee sung by Ganesh himself are good, Noduta Noduta is the best.
Rathnavelu's camerawork adds charm to the song, as well as the second half of te film.   
Watch Kool if you must. And just like the film, the makers leave it to the audience to figure out why the film has been called so! Kool promised to come as a summer respite but instead adds to the heat.
Rediff Rating: