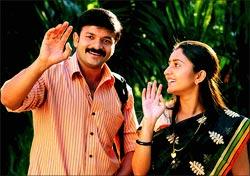 Paresh C Palicha says Malayalam film Janapriyan is not as endearing as it had promised to be. Post YOUR reviews here!

Every other week we see a new director on the marquee, which raises hope that he will revive good cinema in Malayalam again. This week, we have Boban Samuel's Janapriyan, starring Jayasurya.

Janapriyan tells an ordinary story in an unusual way, and is written by Krishna Poojapura, who has had a spate of comic hits.

Ordinary, because the hero Priyadarshan (Jayasurya) is a debt-ridden man carrying the cross of his father's suicide and has to marry off his sisters.

Unusual, because he is so positive that he can put any self-help guru to shame. He is so hard working that he virtually works 24/7 -- from tapping rubber in the wee hours of morning to taking private tuitions late at night. In between, he plies his jeep in his hilly rural belt.

Vishakh (Manoj K Jayan), a graduate from the film institute in Pune, is struggling to sell his depressing aka artistic story to a producer (Jagathy Sreekumar). He is trying to do this, ignoring his employment in the local taluk office. In short, he does not value the precious government service that he has.
Fed up of his lethargic attitude, his boss (Lalu Alex) advises him to take a long leave of five years without pay and continue his struggle in the film industry.

Priyan gets the temporary placement to fill in Vishakh's vacancy. Priyan, as expected, endears himself to his co-workers and the public with whom he has to deal with, through his diligence and pleasant nature. He even gets the girl of his dreams. He befriends the girl Meera (Bhama) staying in the bungalow next to his lodge thinking that she is a maid there.

Dejected by not finding success in the film industry, Vishakh wishes to return to his job  Priyan promises him to find a producer to save his job.

The second half goes disappointingly wayward as Priyan has to convince the producer by weaving his own life story into it and bringing it out with a positive light.

Jayasurya charms his way into the viewer's heart; his Chaplinsque take on the character is endearing, if not anything else. Bhama maybe termed as mannequin beauty that oozes goodness of unbelievable kind.

Manoj K Jayan handles the humour department well along with Jagathy Sreekumar. Salim Kumar gives a sober performance as Priyan's drunk room-mate. (His first big screen appearance post National Award was greeted with thunderous applause in the theatre).

On the whole,  Janapriyan is not as endearing as it promised in the beginning, despite some fresh flourishes.

Rediff Rating: