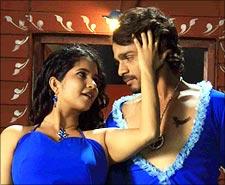 Srikanth Srinivasa says Golmaal is good sleeping
pill if you need to catch up on some sleep.
Kannada film
Golmaal
directed by actor Pramod Chakravarthy is a ticket to two hours of good sleep.
The movie meanders meaninglessly and mindlessly without any direction and you would probably miss nothing if you had a couple of naps in between.
Chakravarthy (Vijay Raghavendra) has come to a photo studio to collect his passport photographs where he meets Preethi (Shuba Punja) who comes on the same errand.
There is another group of people asking for the same. The studio owner does not oblige.
There is a cash bag with jewels that these groups lay their hands on and a chase ensues. The bag gets lost and lands in the studio owner's custody.
Chakravarthy
and Preethi happen to be in the same hotel when they stumble on the and thus the escape journey begins. They escape on a bike only to be followed by a group of three in a car. All of them get lost in the forest. There's another group of cops in the forest.
Chakravarthy and Preethi fall in love with each other while wandering around in the forest. Three Naxalites also land up in the forest fleeing arrest. Finally, Chakravarthy and Preethi get caught.
The scenes are incomprehensible and incongruous and the film is utterly atrocious, to say the least.
Rangayana Raghu raises a few laughs but he is wasted. Vijay Raghavendra has done well and so has Shuba Punja. R Giri's camerawork is poor.
Golmaal
is a sheer waste of time.
Rediff Rating: