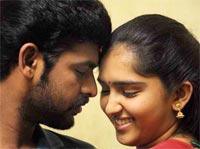 Pavithra Srinivasan feels Ethan could have been more tightly written. Post YOUR reviews here!
Yet another southern-flavoured film arrives on the big-screen, ready to take us through the adventures of an ordinary young man forced to face extraordinary circumstances. Except that this time, Sherali Films' (the producers of 2010's surprise hit Kalavani) Ethan, directed by L Suresh, happens to be set in Kumbakonam.

It does begin on a novel note, though: Sathyamurthy (Vimal) and Selvi (Sanusha) are running away from their hometown. The villain's friend, who is on his way to the wedding demands to know what the bride is doing on her wedding day running away with her lover. And then the whole story comes out: Sathyamurthy isn't her lover at all. He's just saving her.

Cue to a lengthy, but rather engaging flashback: this one too has at its core, a young man Sathyamurthy (Vimal), happy-go-lucky youngster who has the world's worst luck when it comes to business or money sense.

With a teacher father DK (Jayaprakash) who bemoans his son's lack of income, and a naïve mother (Pragathi), he spends his time running all over Kumbakonam, borrowing money recklessly from men like Veera Singam (Singampuli) and then uses his tactics to escape from them. To give credit (!) where it's due, he does possess the gift of the gab and is so successful at talking his way out of any situation, that it's the moneylenders who are left scratching their heads in the end.

Along his many adventures, he meets the pretty, but rather clueless (yet another stereotyped) Selvi, who is terrorized by her uncle and has no way out of a forced marriage. Meantime, Sathyamurthy hobbles along, persecuted by the townspeople who want their money back. An epiphany assaults him when he realizes just how much his parents worry about him, and he tries to turn over a new leaf. But then, life throws more problems in his way.

For Vimal, the role of a silver-tongued young man who's all about ripping people comes naturally; he's had a ball playing it. Even better is the fact that he's not physically a Superman, and uses his brains rather than his muscles to escape a sticky situation. Sanusha is just a pretty airhead who smiles and weeps by turns; she's got nothing better to do. Jayaprakash plays the rehearsed role of a golden-hearted father; Singampuli is entertaining.

Unfortunately, the screenplay, which is fairly brisk in the first half, loses pace in the second. The story simply meanders, giving one stock situation after another, before picking up pace in the final moments.

KPR Ramesh's camera-work takes us through the streets of Kumbakonam with ease, while Raja Mohammed's editing could have been used with better effect. Taj Noor's music doesn't really make an impression.

Had L Suresh's script been tightened in the second half and lost the old forced-marriage plot, it might have worked better. Still, Ethan does have its moments.
Rediff Rating: