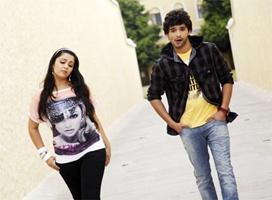 Srikanth Srinivasa feels Dev, Son Of Mudde Gowda is worth watching for its comedy and the lead cast.
The Kannada film directed by Indrajit Lankesh,
Dev, Son Of Mudde Gowda
seems to be plagiarised from the Hindi rom-com
Wake Up Sid
with some changes.
Dev (Diganth) is the son of a rich businessman, Mudde Gowda (Anant Nag), a garment manufacturer. Dev's only interest is to swindle his dad's wealth, enjoy himself and lead a somewhat wayward life.
His father gives him everything in the hope that his son will succeed him in the business he built up from scratch.
When Dev fails his exams, the two quarrel bitterly and the father throws his son out of the house.
Meanwhile, Dev meets Kavya (Charmi), a film choreographer who supports him by allowing him to stay with her.
Dev, it turns out, is an aspiring actor who is looking for a break. He picks up all the arts required to become an actor. Through Kavya he gets his chance to act and
becomes quite successful. Kavya realises that she is secretly in love with him.
When Mudde Gowda comes in search of his son and finds that he is doing quite well, he is proud of his achievements. How and whether the son and father reunite forms the rest of the story.
The role is tailor-made for Diganth. Cine-goers are getting used to seeing him in the role of a good-for-nothing in films that have released in the recent past.
Charmi is a live-wire on the screen and a pleasure to watch, especially her expressive eyes.
Anant Nag and Sudha Belawadi are adequate. Director Indrajit Lankesh has done a cameo which is the surprise element in the movie. Brazilian-Indian Nathalia Kaur makes a brief appearance as an actress.
The songs are choreographed and picturised well. Jassie Gift has scored some foot-tapping numbers. Santosh Pathaje's camerawork is adequate. The film is worth watching for its light-hearted comedy.
Rediff Rating: