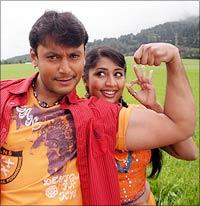 Shruti Indira Lakshminarayana reviews the Kannada movie, Boss. Post YOUR reviews here!

This Sankranti, it's double dhamaka for Darshan fans. The actor plays a double role in Boss, a pakka masala movie directed by Raghuraj.

Ram and Raj are identical twins born to a rich father. While both the boys are intelligent, Ram is sophisticated and Raj carefree. Ram grows up to be a business honcho while Raj is a happy-go-lucky guy and the messiah of slum dwellers.

It is this down-to-earth attitude of Raj that makes Ram intolerant of him. A twist in the tale and Raj takes the place of Ram. But is he stepping into rough waters by doing so?

A heavy duty fight sequence marks Darshan's entry in the film and fans couldn't have asked for a better opening. The hugely popular classigu massigu boss...song follows and the crowd's spirits soar up a notch higher. The story that follows however is nothing new. In fact a few sequences are inspired from other films the Hindi film Race being one. The reason stated for the brothers being as different as chalk and cheese is also illogical.

Comedy by Rangayana Raghu will make the front benchers laugh out loud. Darshan has enough scope to exhibit his style quotient. If only he was backed by power punched dialogues. Nevertheless, fans of Darshan will have little to complain as the film is replete with fights. Action directors Ravi Verma and Palani Raj save the best for last and it is in the second half that you get to see action unlimited.

Camera by Krishnakumar lifts the final fight sequence. Special effects are also used in the film, but they are not something new.

Music is by industry's most wanted man Harikrishna. But with Boss, he fails to create the magic of his recent films. However Classigu Massigu Boss…stands out in the album.       

Boss has Darshan in every frame and this time he also gets to bring out dual shades. While the energy he displays in this film is way better than the one he exhibited in his previous big budget mass movie Porki, the actor could have done better by bringing out varied expressions to differentiate between two of his characters. Having said that, he is pasia vasool in fights. His comic timing in the climax is also another highlight of the film.
Navya Nair, who paired opposite him in Gaja, is one of the leading ladies in this film. She is mostly confined to songs. Rekha has ample scope for skin show and her character will remind you of Katrina Kaif in Race.
Tamil actor Prabhu debuts in Kannada films with Boss. He plays a CBI officer and makes an entry only in the second half. An actor of his caliber is wasted and this role could have been played by anyone.
Umashree and Bullet Prakash are also part of the cast.
Boss is a festive outing for Darshan fans. While the actor is yet to please the class, he is surely the boss of the masses!
Rediff Rating: