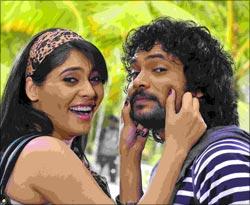 Srikanth Srinivasas says AK 56 is a perfect blend of love, family sentiment, racy action scenes and excellent camerawork.
AK 56
evoked high expectations because of the huge scale of the production and for being director N Omprakash's 25th film. And, indeed, he has successfully blended romance, action and the joy of living in a big joint family.
The title may suggest violence and gore, but
AK 56
is actually a family entertainer that has some brilliant and breathtaking action sequences and aerial shots.
The story revolves around a young basketball player, Ajay (Siddhant), who is mistaken to be a terrorist, after police begin investigating how AK-56 guns have reached a small village, when a boy is seen using it as a toy. For the most part, the film is about Ajay's struggle to prove his innocence. It is also about the problems faced by his near and dear ones during this period.
Siddhant takes on Saleem (Atul Kulkarni) who plans to blow up a dam. There's also the love interest, played by Shirin Shringar, who gives a lively and effervescent performance.
The chase sequences are breathtakingly shot by cameraman S Manohar on the Bangalore-Mysore expressway, with bikes and cars piling up. These sequences remind us of Omprakash's movie
Lockup Death
shot in the early 1990s.
The aerial shots of the Shivanasamudra and the Cauvery river basin are again breathtaking and we wish there were more of them.
Palaniraj's action scenes superbly complement Manohar's camerawork. Abhimann's background score is good.
M S Ramesh deserves credit for the catchy dialogues that truly reflect the current state of affairs in India in dealing with terrorism.
Though Siddhant gives a commendable performance, he could do with some acting lessons. Thanks to Naveen Krishna's dubbing, Siddhant's performance gets a boost.

Suchendra Prasad walks away with the acting honours for his powerful dialogue delivery as a cop. Sumalatha, Sharath Babu, Atul Kulkarni and Lokanath are adequate. Shobhraj and Kote Prabhakar add value as the baddies.

AK 56 is one of the best films made by Omprakash; it is better than his decade-old film AK 47.

Rediff Rating: