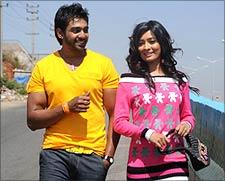 Srikanth Srinivasa says Adhoori is a refreshing change for Kannada viewers.
Adhoori
, starring debutant Dhruva Sarja and Radhika Pandit is directed by A P Arjun of
Ambaari
fame. The love story runs on just two characters; others who make an appearance are relegated to playing guest roles.
The film starts with lovers Poorna (Radhika Pandit) and Arjun (Dhruva Sarja) deciding to call it quits. It is Poorna who is hell-bent on going her way. Arjun wants to stick to the relationship and convinces her to give him another seven days so that they can revisit their love story.
After much haggling and pleading, Poorna agrees. Thus begins the seven-day love 'sojourn' with Arjun trying his best to rekindle the love that they shared.
The story goes back and forth showing how they fell in love. The reason for their impending split is not known until the second half. They even go to the extent of getting married but on the day of the marriage, Arjun fails to turn up, which peeves Poorna no end.
Poorna introduces Tarun (Tarun), a software engineer,
as her suitor to Arjun and that is when he gives a third person account of his love story with Poorna to Tarun. He earns the sympathy of Tarun.
On the sixth day Arjun walks away, dejected that he is unable to bring his lover around.  Poorna realises that she has insulted him enough. See the movie to find out what happens on the seventh day.
Dhruva Sarja exudes innocence in this role. Though blessed with very unconventional looks for a hero, he wins the hearts of viewers with his fights, dances and the lost look he wear throughout the film.
Once again Radhika Pandit turns in a good performance and proves that she can carry an entire film on her shoulders.
Surya Kiran's camera work is good. Music composer Harikrishna has a winner on his hands with the song
Aamaate…
though the other songs are not that hot.
Adhoori
(which means richness) lives up to its name. It keeps the viewer engaged, which is a refreshing change from the many bad Kannada films hitting the screens in the past few weeks.
Rediff Rating: