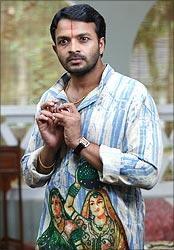 Paresh C Palicha says Malayalam film 101 Wedding is a typical entertainer with actor Shafi's stamp all over it.
Hunger strikes have become a part of our society today and director Shafi uses this very aggressively in his new movie 101 Wedding.
The film shows actor Vijayaraghavan use the Gandhian approach to close down unlicensed toddy shops, bars and even bring his son to tow his line. But there is nothing noble or Gandhian in this film.

Krishnanakutty (Kunchako Boban) aka Krish lives by the diktat of his father that human beings have to do minor frauds to survive in this world. After taking a very long time to establish this fact, the story moves to the main event of the 101 Weddings.

The core of the film is another Gandhian invention of cheap community wedding where the concept of formal dowry or extravagance is prohibited. Krish is forced by his hunger-striking father to register for this wedding with a girl of his choice. Abhirami (Samvrutha Sunil) is a lady who is against her father -- a liquor baron -- and often tips Krish's father about his illegal businesses. She is his choice as his daughter-in-law.

The story somehow moves forward on the steam of humour as Krish works out a scheme to use a substitute to register for this community wedding and it happens to be Jyothi (Jayasurya), an effeminate dance teacher who has been rejected by 29 girls till date.
Here we also see the entry of Antappan (Biju Menon), who has some old scores to settle with Krish. Then we see mayhem and chaos with mistaken identities and tomfoolery of the highest order before we reach the predictable end.

The screenplay and dialogues -- credited to Kalavoor Ravikumar, based on the story written by the director himself -- takes a long winding route to reach acceptable culmination. And there is even the stamp of typical Shafi films that is the celebratory mode with songs and dance used in excess.

Though Kunchako Boban, Jayasurya and Biju Menon are given enough screen time, Kunchako Boban is the mainstay of the story with a character depicting grey shades. Biju Menon, who is on the roll these days and considered a lucky mascot by directors, is shown as a rough rogue with comical leanings is used aptly.
Added to this his pairing with Kunchako Boban soon after the box-office success of Ordinary does work.

Jayasurya as the effeminate dancer is supposed to be the trump card of this film but on the whole, he is just reduced to a sidekick. Samvrutha Sunil has a meatier role as the leading lady than the conventional heroines we see these days. The same can not be said about Bhama.

As for the impact of 101 Weddings it is just a typical Shafi entertainer, which takes a while to reach the climax.

Rediff Rating: