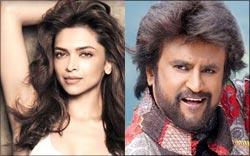 Earlier this week, Deepika Padukone flew to Chennai to shoot a romantic song with Rajinikanth.
The number, an ultra-romantic love duet, was choreographed by Saroj Khan.
And we hear Ms Khan, known to make screen couples sizzle with their chemistry, had planned some scorching hot moves for the two.
But God proposes, Rajinikanth disposes.
Apparently, Rajnikanth has become acutely conscious of his age and the age-difference with his leading lady after the bout of illness last year. The superstar has reportedly asked his director Soundarya, who also happens to be his daughter,
to modify and change the love scenes.
It took Deepika's intervention to convince the star to cuddle and get lovey-dovey for the song.
A source from the
Kochadaiyyan
team says, "Rajni Sir wanted the romantic movements and gestures to be watered down. But Deepika insisted on letting them be. She, in fact, made sure Rajni Sir was comfortable."
When quizzed about the romantic song,
Kochadaiyyan
producer Dr Murli Manohar said, "It's a brilliant song -- A duet with classical undertones. It's not a classical dance number, as wrongly reported in the media. A R Rahman has outdone himself in the song. It's an extremely romantic song with classical elements woven into it. But it isn't a classical dance number."