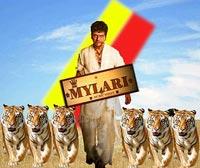 Actor Shivarajkumar is all geared up for his Christmas Kannada release, Mylari, and has his hopes riding high on it.

Like him, director Chadru has also pinned his hopes on the film, and is looking to erase the debacle that his previous venture Prem Kahani was. Mylari is Shivarajkumar's 99th film and expectations are sky high.
"But it's more of love than expectation. People are wishing that this film is a huge success. It is their love that will make the film work," clarifies Chandru.
So what does Mylari have in the offing?

"It is a full-on family entertainer. It has both mass and class elements in it. There is action as well sentiments. It is a film that everyone can identify with. It comes with a message too. In one line, it is an ordinary story told in a beautiful way," says Chandru.
The film has utilised the 'reverse narration' technique. "I thought of adapting this technique after watching a few Oscar winning films," says Chandru. 

It was this style of narration that made Shivanna okay the film.

"The story is not something that hasn't been told before, but the way it has been told is what will make the film stand apart. I was impressed with the way in which Chandru told me the one-line story itself. It's just not the narration style, but camera work is also the other highlight. Songs have also come out well and have already been well received," says the actor.
On the first day of its market release itself, 22,000 audio CDs were sold.

Gurukiran is the music director. Shivarajkumar's brother and actor Puneet Rajkumar has also sung a song in the film. The song Mylapurada Mylari, which features post interval, is a huge hit.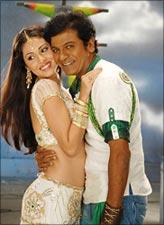 Shivanna has performed 38 signature steps continuously in the song.

"My introduction song is also something to watch out for. The song has not been released on TV and it will be a surprise element. Folk and rap steps and gymnastics movements have been used," says Shivanna.

The song comes with the lyrics Jaginakka jaginakka and in each frame 1000 people will be seen.
A five-minute fight between the lead actor and a ram is being projected as the other highlight.

Six phases of the hero's life will be shown and thus Shivarajkumar will be seen in different getups. As of now only two looks have been revealed. One is that of a college student (for which he lost seven kilos in two months) and the other of a jail inmate.
Such is the frenzy around the film that a convict jailed in Bengaluru Central jail is said to have expressed his desire to come out on parole just to watch the film! A godman is also said to have blessed Shivarajkumar during the film's shooting in Hubli.
Fans have also taken it upon themselves to promote the film. Members of a fan club for instance have put up Shivarajkumar T-shirts up for sale.

"While the front side will carry one of Shivaana's look from the film, the back will display the number 99 as this is his 99th film. Tees are priced at Rs 300," says Praveen, a fan.

He also adds why he is looking forward to the film. "While Tammassu and Sugreeva were good experiments, we are yet to see Shivanna deliver a hit this year. We feel Mylari and Jogaiah will come as a shot in his arm. These films look as if they have been stylishly shot. Shivanna should go in for big budget films. Some of his previous films didn't work as they came with outdated subjects. But we feel this film will be well made."
Mylari traces the clash between the ambitions of parents and passion of children. It also speaks of how the path we choose to tread greatly depends on family, friends and societal values.
Sada, Sanjana and directors Guruprasad, Suresh Heblikar, Suchendraprasad and Baraguru Ramchandrappa have acted in the film.