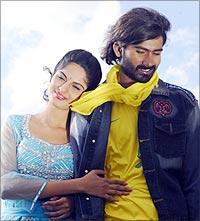 Shruti Indira Lakshminarayana reviews the Kannada movie Devdas.
Post YOUR reviews here!
After delivering two good performances in a row (Dhool and Hudugaru), Yogish disappoints with Devdas.
Yogish is Devu, a junior artiste. He is a good dancer and this talent of his catapults him to stardom. Devu's father (Rangayana Raghu) now wants him to marry a famous heroine (Natanya) but Devu is already in love with Paro aka Parvathi (Jenile Pandya).
Stardom comes in the way of their love but Devu is even ready to give up films for Paro, but she is in no mood to entertain him. What ensues constitutes the remaining story.
ABCD Shantakumar,
who's directed the film still has a long way to go.
Devdas
is a shoddy attempt backed by a hackneyed story. The film just caters to the dancer in Yogish. What harms the film more is the lackluster performance by Yogi. The actor who simply outdid his co-stars in
Hudugaru
that released recently, fails to register this time. His expressions are bland and he's low on energy. His leading ladies are damp squibs too.  Paro especially comes across as lifeless. Rangayana Raghu is not his usual best either.
Camerawork does nothing to help the film. Joshua Shridhar has done better when it comes to music. The only highlight of the film is the song Saarayi shisheyali… It is actually from an old film Mangalya Sakshi and has been used here again to suit a situation. So if you are a fan of the song, watch it on music channels.

This Devdas will cry his way out of theatres very soon. Give the film a miss.
Rediff Rating: