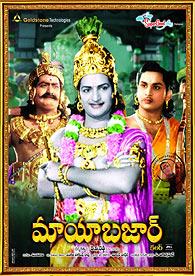 While the Hindi film industry is currently celebrating 100 years, the Telugu and Tamil film industries will reach this landmark in the not-too- distant future.

The Andhra Pradesh Film Chamber of Commerce (APFCC) is taking some serious steps to bring to the fore the Telugu people's contribution to Indian cinema.

At a recent press conference, Tammareddy Bharadwaja, president of the APFCC pointed out that doyens such as L V Prasad (who was part of Alam Ara, India's first talkie film) and P Jairaj made their mark in Hindi cinema and were Telugu speaking.

H M Reddy, (who made the first Telugu and Tamil films) and Raghupati Venkaiah were pioneers. The Film Chamber is taking steps to highlight the history of Telugu cinema in different ways.

Kick-starting the celebrations will be the Surabhi theatre festival (May 22-27). This theatre tradition is about 130 years old and Telugu cinema, in its initial stages, borrowed heavily from Surabhi.

The stories for films such as Maya Bazaar, Bhakta Prahlada, Lava Kusa, Patala Bhairavi were drawn from Surabhi theatre according to Bharadwaja. Surabhi Kamala Bai was the first heroine in Telugu cinema.

Though it has a rich tradition and is a pioneer in some ways, Bharadwaja rues that Telugu cinema has failed to preserve its heritage. Old film reels, posters, music cassettes, books, and newspaper cuttings etc have not been preserved and are not available.

"As part of 100 years of Indian cinema, we are planning to hold an exhibition in June showcasing Telugu cinema's legacy, besides seminars and workshops," said Bharadwaja.

He has appealed for any information or memorabilia related to Telugu cinema.
The information can be sent to: info@apfilmchamber.com